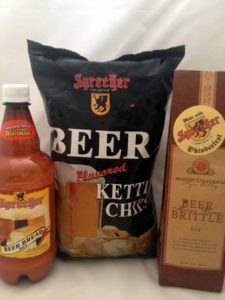 I went on a tour of Sprecher Brewery with some friends recently, and after it was over we sat down and drank the four beers each that are included in the $5 tour cost and then made our way into the gift shop. The gift shop at the brewery has pretty much anything Sprecher related that you could ever want from beer soap to Sprecher flavored BBQ sauce and everything in between. My three purchases that day (along with some beer of course) were beer bread mix, beer flavored kettle chips and a package of beer brittle.
The beer bread is so simple to make that even I couldn't manage to screw it up. All do is combine the mix with 12 oz. of your favorite Sprecher beer, toss it in the oven and and hour later you'll have yourself a delicious loaf of bread! The taste of the beer bread will obviously vary depending on what type of beer you add to the mix. When I made mine I decided to go with Sprecher's Abbey Triple Belgian style ale, which gave my bread a nice fruity taste.
The Sprecher Beer Flavored Kettle Chips were pretty good, but if you buy them expecting a strong beer taste you might be a little disappointed since you can't taste much beer in them at all. The chips are actually pretty similar to Krunchers when it comes to texture and taste. Don't get me wrong though, they're still pretty tasty.
The beer brittle was probably my favorite thing that I brought home from the brewery that day. It's basically peanut brittle made with Sprecher's Oktoberfest beer. Similar to the chips, the beer taste isn't super strong, but you can definitely taste it.
The best thing about this blog post doesn't even begin to scratch the surface as to just how many beer flavored items that Sprecher sells, so I'd say that there's a pretty good chance that you'll see a followup post in the future after I try out their beer popcorn, beer chocolates and the Sprecher flavored BBQ sauce that I mentioned earlier. Now if you'll excuse me I've got quite a few bottle of Sprecher beer to drink!