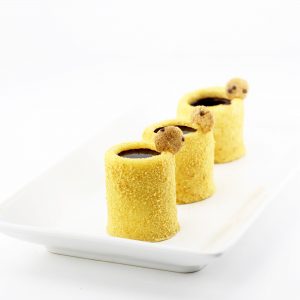 This would have been much more topical had I posted it back on August 10th for National S'mores Day but honestly, I can't keep up with all these damn food holidays and didn't even know about National S'mores Day until after the fact anyway.
The idea for these S'mores Shot Glasses came about solely because I had a bunch of marshmallows left after a failed attempt at making a Cookie Crisp ice cream cone.
I was trying to make something similar to the Rice Krispies Treat Ice Cream Cone and Fruity Pebbles Ice Cream Cone I made a few years back, but since the Cookie Crisp pieces are fairly large the cone just didn't stick together well enough to work out. Since I already opened the marshmallow bags though I figured I should at least use them for something before they got all hard and inedible.
So, I melted some butter in a pot over medium heat on my stove, added the marshmallows and stirred them until they completely melted, poured them into my silicone shot glass mold and then put the mold in my freezer to help them harden back up.
My original plan with these was to dip the tops of the marshmallow shot glasses into chocolate and then coat the rims with crushed graham crackers. What I realized once I started popping the shot glasses out of the mold though was that they start to get sticky very quickly, so I decided that a better option was to just roll the entire shot glasses in graham crackers prior to filling them with chocolate. I also garnished them with Cookie Crisp because again, I had some left over after my unsuccessful ice cream cone attempt.
Even though I only filled my shot glasses with Hershey's Syrup if you wanted to go the alcoholic route they would actually work really well with something like RumChata or Baileys. Also, if you make these make sure you use real butter. I used a stick of vegetable oil spread the first time I made them, which for some reason prevented the shot glasses from freezing fully no matter how long I left them in my freezer.
Or, if s'mores aren't your thing you can use the same shot glass mold to make things like Corn Dog Shot Glasses, Pancake Shot Glasses, Mini Bloody Marys in Edible Cheddar Cheese Shot Glasses or even Spaghetti Noodle Shot Glasses.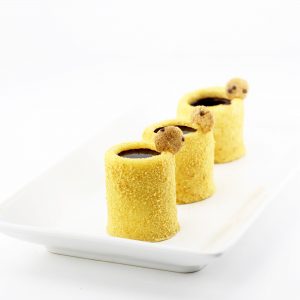 S'mores Shot Glasses
Nick @ DudeFoods.com
A delicious dessert recipe featuring shot glasses that are made from melted marshmallows, coated in graham crackers and filled with Hershey's Chocolate Syrup.
Ingredients
4

tablespoons

butter

1 1/2

packages (15 ounces)

mini marshmallows

6

graham crackers

finely crushed

Hershey's Syrup
Instructions
Melt butter in a pot over medium heat and stir in marshmallows. Continue stirring until marshmallows are completely melted.

Pour melted marshmallows into shot glass mold.

Freeze for 2 hours or until marshmallow shot glasses can be removed from the mold without sticking.

Roll shot glasses in finely crushed graham crackers.

Fill shot glasses with Hershey's Syrup and serve immediately.