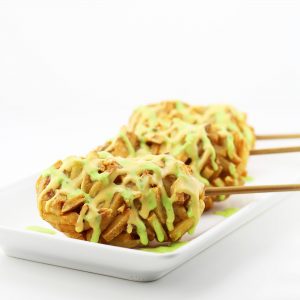 The older I get the more I hate winter. Especially here in Wisconsin. Sure, it's fun when you're a kid and if it snows too much one day they might cancel school and you can spend the afternoon sledding, but as an adult all snow means is that you're going to spend your morning shoveling.
Fall though? Aside from the fact that it precedes winter I love everything about fall. The leaves on the trees changing color… the crisp autumn air…. Oh, and fall also means that football is back and football being back means that me and my buddies get to hang out once a week, drink beer and eat tons of awesome food!
My game day snacks usually consist of things like chicken wings and taco dip and honestly, I don't think I've ever once involved seafood, so when Gorton's asked me to create a football-themed appetizer using one of their items I actually had to rack my brain a little to come up with something good. Sure, any of their breaded fillets would be great for fish tacos, but fish tacos have been done a million times. I wanted to come up with something totally new, but at the same time I wanted something simple — something that wouldn't take up too much time in the kitchen.
I eventually came up with the genius idea of Deep Fried Fish and Chips on a Stick! Much like fish tacos, fish and chips — or "fish and fries" if you're not down with sweet British slang — have also been done before, but they haven't been done like this! The idea is based around the crazy French fry breaded corn dogs that are super popular in Korea, but instead of hot dogs I used Gorton's Beer Battered Fish Filets.
The best part about these is that they're super simple to make. I started off by cooking some Gorton's Beer Battered Fish Fillets as well as some French fries. Then, I took the filets one by one, poured more beer batter over them, packed fries around them and wrapped them in plastic wrap and aluminum foil so they'd keep their shape.
You can also whip up as many of these as you want in advance and just keep them in your freezer until game day. When you're ready to eat them all it takes is five minutes in a deep fryer or heavy skillet and they're ready to go!
When it came to dipping sauces to go with my Deep Fried Fish and Chips on a Stick I stuck with the football theme. Being a Green Bay Packers fan I wanted something green and something yellow so I went with both nacho cheese and homemade wasabi sauce, which oddly enough actually paired really well together.
If you want to try the wasabi sauce I made you can combine 1/2 cup mayonnaise, 1/3 cup cilantro leaves, 3 tablespoons lime juice, 2 teaspoons wasabi paste and 1 tablespoon of water in a blender. Any other type of dipping sauce that you normally use with fish or fries would work just as well though. Enjoy!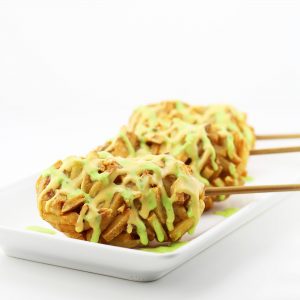 Deep Fried Fish and Chips on a Stick Recipe
Nick @ DudeFoods.com
Do you enjoy fish and chips? Then try out this delicious recipe for fish and chips on a stick!
Ingredients
1

package

Gorton's Beer Battered Fish Fillets

1

package (20 ounces)

frozen French fries

2

cups

flour

2

cups

light beer

10

corn dog sticks

or chopsticks if you can't find corn dog sticks

2

quarts

oil

for frying

Your choice of dipping sauce
Instructions
Cook Gorton's Beer Battered Fish Fillets and frozen French fries according to the directions on the packages.

In a bowl combine flour and beer until smooth.

Slide one Beer Battered Fish Fillet onto each kabob stick.

Place a piece of plastic wrap on your kitchen counter and put a pile of fries — roughly the size of one of the fish fillets — onto the center of the plastic wrap.

Drizzle beer batter over one of the fish fillets and place it batter side down on top of the pile of fries.

Drizzle more batter over the other side of the fish fillet and top with more fries.

Pack French fries tightly around the fish fillet before wrapping it up in plastic wrap and aluminum foil. Repeat with the remaining fish fillets.

Freeze fish fillets for an hour or until beer batter is completely frozen.

Heat oil in deep fryer or heavy skillet to 375°F.

Fry French fry breaded fish fillets in batches for 5 minutes.

Drain on paper towels and serve with your preferred dipping sauce.