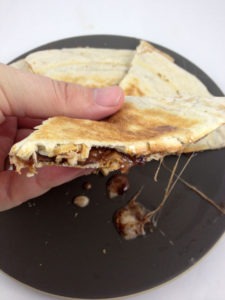 I mentioned back in my blog post about how to make a grilled cheese sandwich in your toaster that I had quite the overabundance of kitchen appliances covering my countertop. One of them that hasn't gotten much use lately is my quesadilla maker, so I set out to change that. What type of quesadilla would I make though? A chicken quesadilla? Your classic cheese quesadilla? Nope! I decided to make some s'mores quesadillas!
Since I actually wanted to be able to close my quesadilla maker I couldn't just cram a bunch of Hershey's chocolate bars, marshmallows and graham crackers in between two tortillas and cook them that way. Instead I decided to melt the chocolate in my microwave and the marshmallows on my stovetop and then crush up the graham crackers before packing everything between the tortillas. Making some sort of graham cracker tortillas would have been awesome, but that's WAY beyond my scope of cooking experience.
If you think regular s'mores are messy try making them in quesadilla form! Apparently I added a bit too much melted chocolate and marshmallows and a few too many crushed graham crackers, because as my quesadilla started cooking marshmallow and chocolate came oozing out the sides. Luckily I didn't lose too much filling, and when the green light came on to indicate that my quesadilla was done there was still plenty of it left between the two tortillas.
How did they taste you ask? Spectacular! When I eat regular s'mores I often have the same problem that I have with hard shell tacos, which is that with each bite the hard exterior cracks more and more and I end up losing most of the filling. With s'mores in quesadilla form however everything is kept in place by the tortillas so each bite is just filled with tons of chocolate, marshmallow and graham cracker goodness.