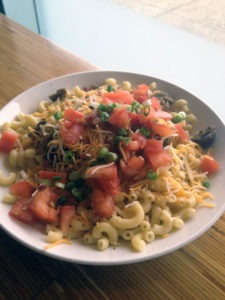 Noodles & Company recently brought back their three signature "Grown Up Mac & Cheese" dishes, and to help promote them they sent me a gift bag, which included coupons to try the entrées, some lip balm, an apron and a couple Noodles t-shirts.
Unfortunately for me the shirts were matching "Mac Mommy" and "Mac Kiddo" mother and daughter shirts. It's a shame too, because I would totally rock a Noodles & Company "Mac Daddy" shirt if they made them. I was also secretly sort of bummed that the lip balm wasn't mac & cheese flavored, but then again I have no idea if macaroni and cheese flavored lip balm even exists.
Deciding which of the three mac & cheese options (Bacon Mac & Cheeseburger, Chili Mac and Truffle Mac With Baby Portabellas) to try first was a tough decision, but I finally chose their Bacon Mac & Cheeseburger. The dish consists of their regular mac & cheese mixed with oven baked meatballs and bacon and then topped with Cheddar-Jack cheese, house-made breadcrumbs, roma tomatoes and green onions. Noodles actually refers to it as a "deconstructed cheeseburger," which pretty much sums it up perfectly.
Overall I loved the mac & cheese, and I have no doubt that I'll be back soon to try the other two choices,but I think that my favorite dish at Noodles would still have to be their buttered noodles with chicken. You'd think something as simple as buttered noodles would be super easy to just make for yourself at home, but I have no idea what it is about theirs that makes it so good. I even found the exact egg noodles that they use and the same type of Parmesan cheese that they sprinkle them with and even then I couldn't make mine taste half as good as the ones at Noodles. Oh, and their Rice Krispies treats? Don't even get me started on how good those are!