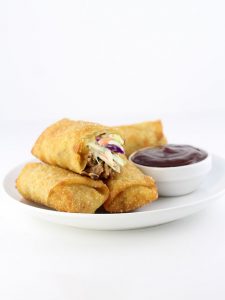 For about a year and a half now I've been working with Smithfield to create recipes using their various pork products.
In case you've missed them you can click here to check out all the different dishes I've come up with thus far.
This time they sent me a couple slabs of their Dry Seasoned Ribs and specifically asked me to repurpose the cooked rib meat into a second dish.
This was great because not only did I get to eat their amazing ribs for dinner one night, but I also got to use the leftover meat to make these Rib Meat and Coleslaw Egg Rolls. Anytime you can eat ribs two days in a row is a win win!
I used Smithfield's Sweet & Smoky Kansas City BBQ Dry Seasoned Ribs for my egg rolls, but they also come in three other flavors as well — Bold & Spicy Southwest Style Peppercorn, Sweet & Spicy Memphis BBQ and Sweet & Tangy Carolina BBQ.
I had the Southwest Style Peppercorn ribs for dinner two nights later and they were equally as tasty. so I can state pretty confidently that the two flavors I haven't tried yet are more than likely pretty spectacular as well.
How many egg rolls you're able to make will obviously depend on how many leftover ribs you have, so if you're following the recipe below you may need to make more coleslaw than I did.
I personally went a little crazy chowing down on ribs the first night and didn't have a ton of meat remaining the following day — which is a testament to how great Smithfield's ribs really are — so I only ended up with four egg rolls. Let me tell you though, those four egg rolls were delicious!
Want to make your own? Here's how! Or, if you're looking for grilling tips or even more recipes be sure to check out SmithfieldThrowdown.com!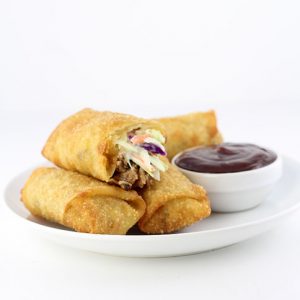 Rib Meat and Coleslaw Egg Rolls Recipe
Nick @ DudeFoods.com
Have some leftover ribs after grilling? Combine the rib meat with some coleslaw to make these Rib Meat and Coleslaw Egg Rolls!
Ingredients
2

quarts

oil

for frying

leftover meat from Smithfield Dry Seasoned Ribs

egg roll wrappers

1

cup

chopped white cabbage

1/3

cup

chopped red cabbage

1

carrot

shredded

1/4

cup

mayonnaise

1

tablespoon

apple cider vinegar
Instructions
Shred leftover rib meat and set aside.

Combine chopped cabbage, shredded carrot, mayonnaise and cider vinegar to create coleslaw.

Lay out an egg roll wrapper with one of the edges pointing towards you.

Place 1/2 cup total of rib meat and coleslaw in the center of the egg roll wrapper and using your fingers wet all four edges. This will help the egg roll stay together after you roll it.

Then, take the corner that's pointing towards you and fold it up over the rib meat and coleslaw mixture, fold the left and right ends in and roll the egg roll up. If this explanation is a little hard to follow just check out the video above.

Heat oil in a deep fryer or heavy skillet to 375° and fry the egg rolls for approximately two minutes or until golden brown.

Drain on paper towels and serve with BBQ sauce.