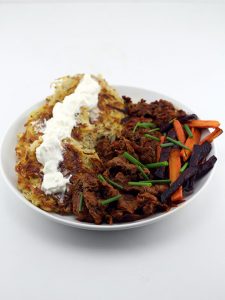 I received an email from Blue Apron recently asking me if I'd like to give them a try for free and since I'm a huge fan of arriving home from work to a big box of food waiting for me on my doorstep I obviously said yes.
In case you're unfamiliar with them Blue Apron is basically a fresh ingredient and recipe delivery service where they ship you everything you need to make restaurant quality meals at home.
Now, as much as I'd love to eat Flamin' Hot Cheetos Cones filled with macaroni and cheese or Deep Fried Doritos Breaded Burritos for dinner every night it's also pretty great to have a more normal meal every once in a while. Plus, for some reason my wife is always telling me that things like Deep Fried Bacon Wrapped Cheese Curds don't count as an actual meal, so this gave me a chance to cook her a couple great dinners that she really appreciated. Also, with the holiday season still in full swing this is pretty much the easiest way to enjoy a great home cooked meal without having to spend tons and tons of time on it.
Blue Apron allows you to choose which types of meals you want between beef, poultry, pork, lamb, fish and shellfish. There's even a vegetarian option. Because I'm pretty much willing to try anything — and because I wanted to get an idea of everything they offer — I kept all the boxes checked when signing up. I was given six different meal choices for the week I tried Blue Apron and ended up choosing  Sautéed Beef and Potato Latkes, Harissa Chicken Skewers and Spicy Shrimp & Bucatini Pasta as my three meals.
As far as the individual meals go, you can either choose those each week like I did, or just let Blue Apron surprise you based on the preferences you selected when you signed up. If nothing looks appealing in a given week — which seems unlikely based on the wide gamut of choices — you can also decide to skip a week. Basically you can put as much or as little effort as you want into customizing the meals you receive. You can even add a wine pairing along with your meals, which is something I haven't seen with other similar meal delivery services.
My favorite meal of the three — although they all turned out absolutely amazing — was the spicy shrimp & pasta mainly because for such a great tasting meal it also required an absolute minimal amount of work. Oh, and since my wife is allergic to shellfish I got to eat both servings, which was an added bonus!
So what separates Blue Apron from their competitors? For one, they list all their recipes right on their website — even if you aren't a subscriber, so if you wanted you could technically just use their recipes and buy all your own ingredients at the grocery store. I have no idea how that helps their business model at all, but I guess that once you realize how convenient it is getting everything shipped straight to your door you'll just stick with it rather than trudging through the grocery store picking up ingredients.
The second thing I really loved was how big the portion sizes were. I've tried one other similar service in the past — I'm not going to mention who since it was a couple years ago and they could have changed things since then — but the Blue Apron portions were way larger.
As far as cost goes it depends on how many meals per week you want and how many people you're cooking for. 3 meals a week — each feeding two people — costs right under $60, which is a pretty great deal when you consider that it includes shipping and you're still paying less than $10 a serving. They also offer two or four recipe per week plans that serve four people per meal for even less per serving. If you're still not convinced though you can also get $30 off your first Blue Apron order by clicking here.
All in all I'd definitely consider my experience with Blue Apron a success. Not only did I get to cook a couple really great meals for my wife, which she absolutely loved, but It also got me to try a couple foods that I probably never would have ever experienced otherwise. I've never tasted kale until I made their Spicy Shrimp & Bucatini Pasta recipe. I'd never even heard of a persimmon — which is pretty similar to a tomato, although much sweeter and more flavorful —  until I made their Harissa Chicken Skewers. I also never in my life imagined that I'd actually enjoy a meal that included beets, and then the next thing you know I can't get enough of Blue Apron's Sautéed Beef & Potato Latkes with Roasted Beet & Carrots recipe.