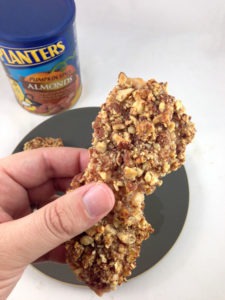 Last year I got a box of seasonal nuts in the mail from Planters and used some of them to make some pretty delicious bacon & almond pumpkin spice pancakes. A few weeks ago I received another package from them, but this time I was fresh out of ideas as to what I should make with them so I took to the DudeFoods Facebook page and asked for ideas. One reader suggested I try making pumpkin spice almond crusted chicken strips, and a couple nights ago I did just that!
To make them I pretty much just followed the exact same process I used when I made my cheese ball crusted chicken strips, which involves cutting boneless, skinless chicken breasts into strips, covering them in flour and then dipping them in a mixture of egg and milk. After that I just dipped them in a bowl of Planters Pumpkin Spice Almonds that I ground up in my Ninja Blender and then cooked the chicken strips in my oven at 375° for about 25 minutes.
As far as dipping goes I actually tried dunking my pumpkin spice almond crusted chicken strips in a few different sauces and found that sweet and sour sauce tasted the best. I know that might sound a little weird, but the flavor combination totally worked. Then again, I also like dipping French fries in my ice cream so feel free to take my advice with a grain of salt.