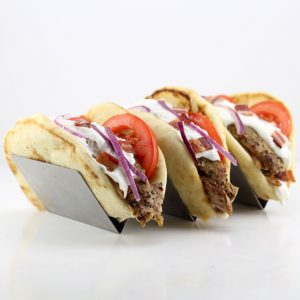 For the past three years now I've been working with Smithfield to create recipes using their various pork products. In case you've missed any of my previous posts you can click here to check out all the different dishes I've come up with thus far.
For my last recipe of the year they shipped me one of their Roasted Garlic & Cracked Black Pepper Tenderloins, which I used to make Pork Tenderloin Gyros with Bacon Tzatziki Sauce.
I've mentioned this in all my previous Smithfield posts, but what I absolutely love about all of their Fresh Pork — aside from the huge variety of cuts and flavors available — is that it comes marinated and seasoned and all you have to do is grill it, roast it, sauté it, or throw it in your slow cooker. All the prep work is done the second you open the package.
The whole not really having to do any work as far as the meat goes thing really came in handy with these gyros because since this was my first time making homemade tzatziki sauce I was able to pretty much spend all my prep time on that, By the time the pork tenderloin was ready I had the sauce done, and the tomatoes and onions sliced and all that was left to do was assemble the gyros!
Prior to make these I was a little leery about how the pork tenderloin would work as a replacement for the traditional lamb meat that you usually find in gyros, but after slicing it nice and thin lengthwise and taking a bite I was convinced. The seasoned Smithfield pork easily stood up taste-wise to any gyro I've ever eaten and trust me, I've eaten a lot of gyros in my life….
Have you got a great tip on how you get your dinner ready in 30 minutes or less using Smithfield Marinated Fresh Pork? Then you're going to want to enter their Real Flavor, Real Fast Contest for a chance to win a trip to Wine Country — including roundtrip airfare for two to San Francisco, two nigh premium hotel accommodation in Napa Valley, two VIP passes for tours and tastings at two premium Napa wineries, lunch for two on the Napa Valley wine train, a $500 dining credit and a $300 transportation credit — or one of hundreds of other great prizes! Even if you don't have a tip or trick of your own you can still vote for your favorite for a chance to win a $25 Visa gift card!
Or, if you're just not a fan of gyros or you're looking for something to keep you warm during these upcoming winter months you could also use the same Roasted Garlic & Cracked Black Pepper Pork Tenderloin to make these Fresh Pork & Pasta Soup Bowls. Plus, you can always head over to the recipes section of Smithfield.com where you're pretty much guaranteed to find something you like!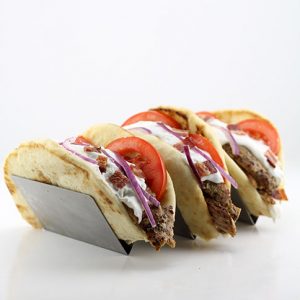 Pork Tenderloin Gyros With Bacon Tzatziki Sauce Recipe
Nick @ DudeFoods.com
If you're tired of traditional gyros then try this recipe for pork tenderloin gyros with bacon tzatziki sauce!
Ingredients
1

Smithfield Roasted Garlic & Cracked Black Pepper Tenderloin

6

slices

Smithfield bacon

3

pitas

1

cup

feta cheese

1

onion

sliced

1

tomato

sliced

1

cucumber

2

cups

Greek yogurt

2

cloves

garlic

minced

2

tbsp

lemon juice

1/4

cup

dill

chopped

1/2

tsp

salt

1/4

tsp

ground black pepper
Instructions
Cook bacon according to the directions on the package and save the grease to use for the Bacon Tzatziki Sauce.

Cook Smithfield Roasted Garlic & Cracked Black Pepper Tenderloin according to the directions on the package and slice into long, thin strips.

For the tzatziki sauce peel and grate or finely dice the cucumber and squeeze as much liquid out of it as possible.

Combine the yogurt and leftover bacon grease in a bowl and add the cucumber, diced bacon, garlic, lemon juice, dill, salt and pepper and mix everything together.

Fill each pita with sliced tenderloin, onion, tomato and top with tzatziki sauce and feta cheese.