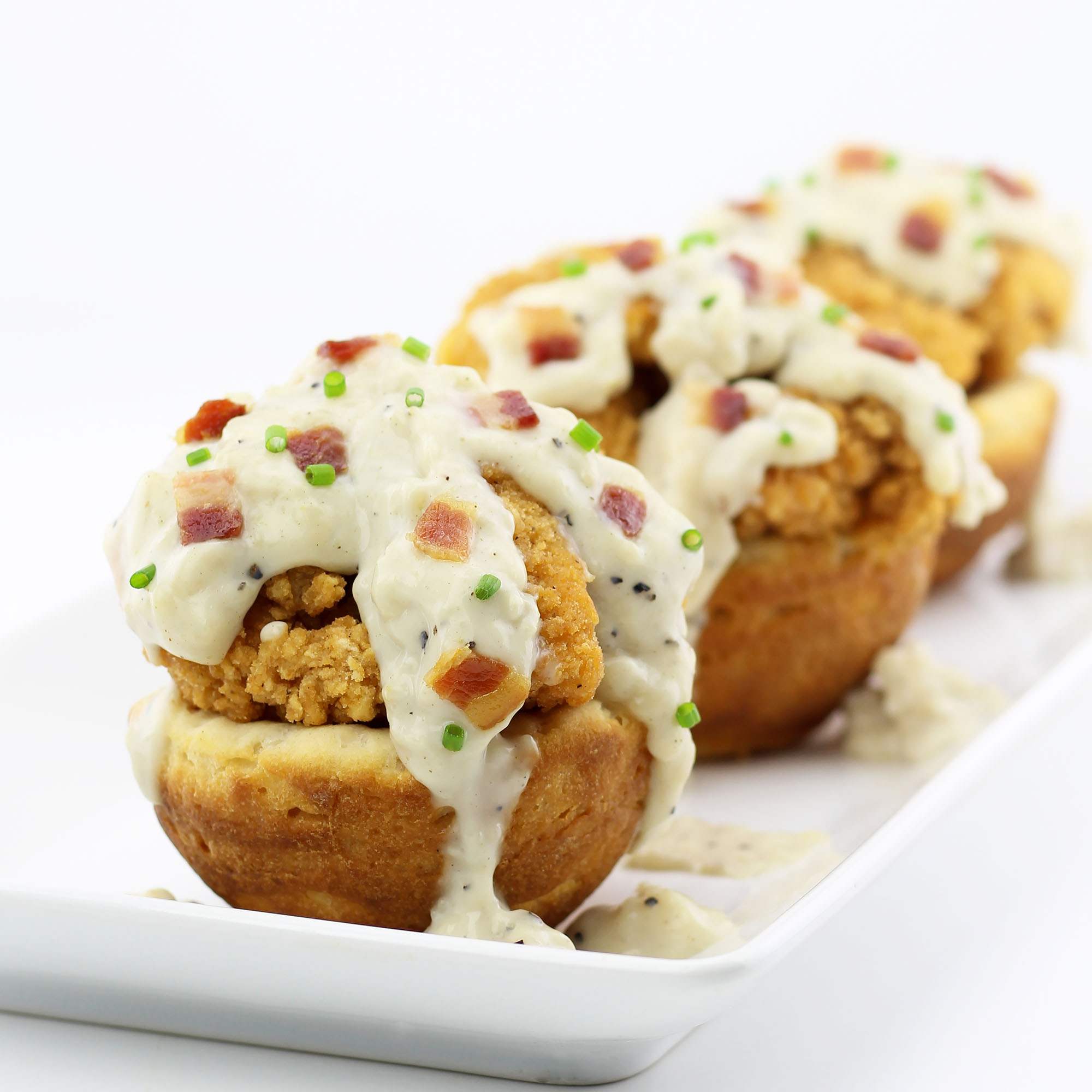 I came up with this idea last year as I was eating my Thanksgiving Leftovers in Edible Biscuit Bowls. On bowl number three or four I got to thinking about what else would taste great eaten out of a biscuit bowl and chicken and country gravy immediately jumped to the top of the list.
The Bacon Country Gravy recipe is the same one I used when I made Chicken Fried Pork Sirloin and when I made my Chicken Fried Pork Tenderloin Sliders. Oh, and then there was the time that I decided to make a sandwich out of two bacon waffles, a boneless pork chop and an egg. I topped that behemoth with Bacon Country Gravy as well….
You will need a Bake-a-Bowl Pan for this recipe, but you can get them for $17.99 on Amazon and once you have one you can use it for all sorts of rad stuff like cornbread bowls filled with mac & cheese, chocolate chip cookie bowls, hash brown bowls, cinnamon roll bowls, and even garlic bread bowls. Oh, and if you don't have Amazon Prime and don't wanna pay for shipping and you live near a Hobby Lobby you can buy them there as well. They're even a couple bucks cheaper than Amazon.
For the popcorn chicken in these biscuit bowls I just ended up buying a bag from the freezer section of the grocery store and baking it in my oven. If you've got a great fried chicken recipe I'm sure these would be even better though. Actually, if you've got a good fried chicken recipe send it my way because I'm terrible at making fried chicken.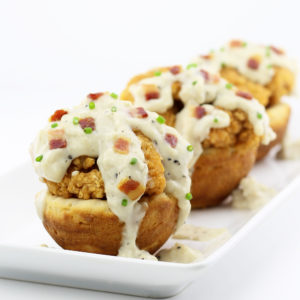 Popcorn Chicken and Bacon Country Gravy in Edible Biscuit Bowls Recipe
Nick @ DudeFoods.com
You may have had biscuits, gravy and chicken before, but you've never had them like this!
Ingredients
1

package

biscuits

1

package

popcorn chicken

4

slices

bacon

3/4

cup

flour

1

teaspoon

salt

1

teaspoon

ground black pepper

4

cups

milk
Instructions
Place one biscuit in each Bake-a-Bowl cavity and add the top piece.

Bake according to the directions on the packaging for the biscuits.

Cook bacon according to the directions on the package and save the grease to use for the gravy.

Add leftover bacon grease to a saucepan over low heat and whisk in flour, salt and pepper.

Slowly stir in milk and continue cooking until thick. If you want a thinner gravy add more milk. Alternatively, if you'd like a thicker gravy add more flour.

Dice the bacon, add to the gravy and remove the pan from heat.

Assemble your bowls by filling each biscuit bowl with popcorn chicken and topping with bacon country gravy.