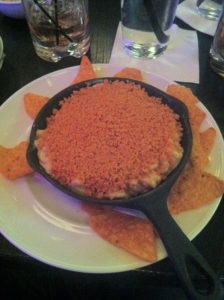 My wife, a couple friends of ours and I stopped at PBR Rock Bar & Grill in Las Vegas mistakenly thinking that the "PBR" in the name stood for Pabst Blue Ribbon. We were instantly confused however when we looked through the drink menu and noticed that they didn't sell any Pabst at all. It turns out that "PBR" is also an acronym for Professional Bull Riding. Suddenly the mechanical bull in the corner made a lot more sense. We decided to stick around anyway and I'm glad that we did because everything we tried there was delicious.
After ordering drinks we started off with an order of Dorito Crusted Mac and Cheese. A macaroni and cheese dish covered in crushed Doritos and garnished with even more Doritos for dipping. Next up was an order of their Tater Invaders, which is a pile of fries and tater tots mixed together and covered in cheese and chili.
I'm a strong proponent of all day breakfast, so for my main entree I chose a breakfast burrito stuffed with steak and eggs and covered in sour cream and guacamole. The picture doesn't really do it justice as far as showing just how big my burrito really was, but it was huge. Although all the food was great I sort of wish I hadn't eaten so much because if I wasn't so full I would have hopped on the mechanical bull in a heartbeat!