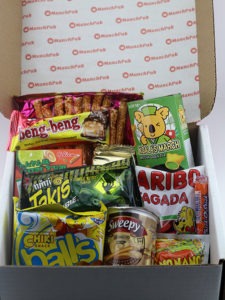 There are quite a few companies out there that will send you boxes of assorted snacks from around the world, so when I received an email from MunchPak asking if I'd like to receive a couple free shipments I immediately lumped them in with everyone else who already does the same thing. After receiving my two packages though and actually reading up on MunchPak it turns out that they're actually pretty unique.
The company offers three different sizes starting at $9.95 — MunchPak Mini which comes with 5+ full size snacks, Original MunchPak which includes 10+ and a FamilyPak option where you receive 20+ snacks. What truly separates them apart though is that you can actually customize your MunchPak. Don't want anything spicy in your box? No problem!  Only want gummy snacks, cookies and nuts? They've got you covered! You can even add a drink option as well. You can see photos below of what I received. On the left is the Original MunchPak and the middle photo is the MunchPak Mini.
As far as order frequency goes you can place a single, one time order or have MunchPak deliver packages to your home, office or dorm room weekly, biweekly or once a month. I also appreciate the fact that they accept Bitcoin payments, but that's probably just the nerd in me….
For someone who works in an office (writing a semi-popular food blog like DudeFoods doesn't quite pay the bills just yet) this is a perfect way to keep your desk drawers stocked with a random assortment of snacks to much on when you forget to eat breakfast or for when you need that post-lunch afternoon sugar rush.
If you'd like to try MunchPak for yourself you can enter coupon code DUDEFOODS at checkout for $4 off your first box!