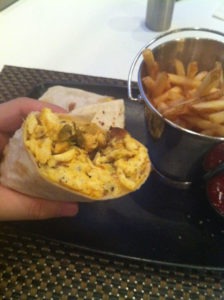 I absolutely love breakfast. In fact, I love it so much that I often eat breakfast foods for lunch and dinner as well. While in Vegas recently I made a breakfast stop at Munchbar, which is located inside Caesar's Palace Hotel and Casino.
Since it was still early (by Vegas standards at least) I was planning to order a vodka and orange juice until I looked at their drink menu and noticed the "Tang Bang," which consists of Three Olives Rang Tang Vodka, fresh lime and Tang. A drink with Tang in it? I had to try it. I haven't had Tang since I was a kid, and although it wasn't quite as delicious as I remembered it still tasted pretty good mixed with vodka. They even salted the rim of the drink with Tang.
When it came time to place my food order I decided to go with the the Barrio Burrito, which is a breakfast burrito filled with scrambled eggs, hot chorizo, fried potatoes, salsa verde and jack cheese. The burrito was delicious and was a great way to start my day. Also included with my breakfast was a bucket of fries, and I'm not using the term "bucket" loosely. The giant breakfast burrito or the bucket of fries on its own would have been filling, but knowing that I needed all the energy I could muster for the long day of non-stop drinking and gambling that was to follow I persevered and finished nearly every last morsel of food on my plate.