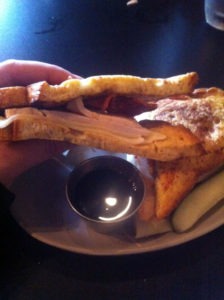 How have I gone through life for this long without ever trying a Monte Cristo sandwich? I've heard of them before, but never really knew what one was until recently. From what I can gather the Monte Cristo differs based on where you get it, but the main premise is that it's a ham and cheese sandwich (with turkey also added on occasion) that is dipped in egg batter and then fried.
I was at INdustri Café for lunch recently and noticed that they had a Monte Cristo sandwich on the menu so I decided to give it a try. Theirs differs a little bit from the traditional version and doesn't have any ham on it at all, but is instead filled with hand-carved turkey, Swiss cheese and bacon (which is always a welcome addition in my book). Also, instead of dipping the entire sandwich in an egg batter and frying it they simply just use French toast for the bread.
As great as frying the whole sandwich sounds, substituting French Toast in the place of regular bread certainly sufficed. In fact, I kinda of wish restaurants would start offering French toast as an option when asking what kind of bread you'd like your sandwich on. Think about how great it would be if a waiter took your order and then asked "would you like that on white bread, wheat bread or French toast?"
I also tried their polenta-bacon griddle cakes on this visit, and those were pretty good as well. I actually didn't have any idea what polenta even was prior to ordering them, but just seeing the words "bacon" and "griddle cakes" together on the menu was enough for me to decide that I wanted to try them.