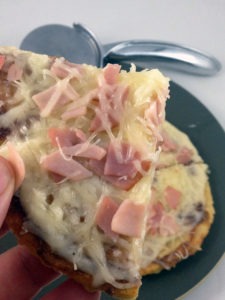 A week and a half ago I wrote about the basil pesto club pizza that I made when I visited Palermo's and I promised that I had a couple more pizza ideas I wanted to try out. The first is Monte Cristo pizza, which I made this past weekend.
The Monte Cristo, for those of you who have never had the pleasure of enjoying one, is an amazing sandwich consisting of ham, turkey and cheese. What really sets it apart though is that the entire sandwich is dipped in an egg batter and then fried. I've seen plenty of restaurants however that simply serve a ham, turkey and cheese sandwich between two slices of French toast and refer to it as a Monte Cristo, so the sandwich is basically open to interpretation.
Traditionally, the type of cheese used in a Monte Cristo is Gruyère, but almost every place I've seen that sells them uses Swiss cheese instead. When I went to the grocery store to buy all the ingredients for my pizza I discovered why. The cheapest Gruyère cheese I could find was $15.99 a pound. If restaurants used Gruyère their Monte Cristo sandwiches would probably cost about $20 each. I wanted to use both Swiss and Gruyère on my pizza however so I picked some up anyway.
When I arrived back at home I got to work making my pizza dough. This was actually the first time I've ever made my own dough from scratch and I honestly can't believe how easy it was. Being the resourceful guy that I am I used a beer bottle to roll out my pizza dough (I don't own a rolling pin) and then cut it into a perfect circle using an upside down glass bowl.
After cooking my pizza crust in the oven at 350° for twelve minutes I took it out, battered it in egg and fried it like a piece of French toast. So far so good!
Next up was the sauce. I really had no idea which type of sauce to use for my pizza, and it was pretty obvious that a regular tomato sauce wouldn't work very well, so I decided to try making a white sauce using the Gruyère cheese that I bought. This was also my first attempt at making my own pizza sauce, and it turned out just as amazing as my homemade pizza dough. All I did was combine, flour, butter, milk, some shredded Gruyère cheese and a couple spices in a sauce pan and after about ten minutes on the stovetop I had the perfect sauce for my pizza!
After covering my fried pizza crust with sauce I topped it with shredded Swiss cheese and diced ham and turkey and put it back in the oven. Five minutes later I pulled it out, sliced it into four pieces, drizzled some maple syrup on it and took a bite. It was seriously the best pizza I've had in a LONG time. I'm not just saying that because I made it myself either!
I think the Gruyère cheese sauce is really what took this pizza to the next level. Its taste blended perfectly with the fried crust, Swiss cheese and the ham and turkey. I actually had a decent amount of sauce left when I was done making my pizza, which I ended up adding it to a couple different sandwiches the following day with equally delicious results. All in all it was a pretty awesome weekend for me food-wise!