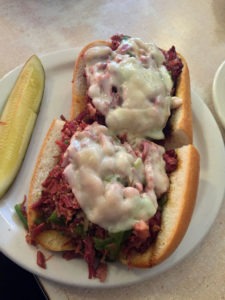 I always seem to have a list of restaurants that I've been meaning to stop and eat at, and for quite some time now Jake's Deli has been near the top of that list. I figure that any place that's been around since 1955 has to be doing something right.
For years I've been heating about how great their sandwiches are and seeing as how Jake's is only a few miles from where I live I pretty much had no excuse not to finally stop in for lunch.
As I was browsing the menu trying to decide between a corned beef sandwich and a Reuben my eyes scrolled down a little bit and I noticed a second corned beef sandwich, which they refer to as their Philly corned beef. The lure of corned beef topped with onions, peppers and cheese and served on a hoagie style roll was too hard for me to pass up, so that's what I decided to order.
I'm pretty confident that I made the right choice. My sandwich was so packed with meat that if I grabbed a couple extra slices of bread and gathered up everything that fell onto my plate as I was eating it I easily would have had more than enough for a second, decently sized sandwich.
It's almost not even really a sandwich, but more of a gigantic pile of corned beef, cheese and toppings with half a bun on each side to prevent everything from spilling off of your plate and onto the table. I loved every single bite of it.
I may have waited WAY too long to try a sandwich from Jake's, but I made up for it fairly quickly by stopping in for lunch again the very next day.