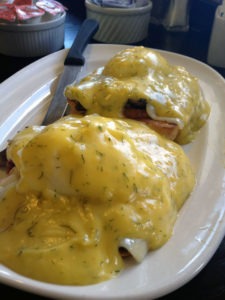 I'm always a fan of any restaurant that serves breakfast all day long, so when I heard that a new place named Cafe Agora opened near my work and that they just happened to serve my favorite meal of the day from open to close I decided to stop in and check them out.
The cafe refers to themselves as a "pancake house," which is sort of weird to me because their menu only includes five different varieties of pancakes, yet they offer six different types of crepes, eight different omelets and six different takes on one of my favorite breakfast dishes — Eggs Benedict. They even have just as many waffle and French toast offerings as they do pancakes.
I wasn't planning on ordering pancakes anyway, so it really doesn't matter to me how many, or how few, they offer, but it just seems like if you're going to call yourselves a "pancake house" that you should have a LOT more than five different types of pancakes.
When it came time to order I decided to try the Mon Amour Benedict, which the menu described as two croissant halves, layered with grilled portabella mushrooms, sliced tomatoes and melted Swiss cheese and topped with poached eggs and Hollandaise sauce.
When the waitress returned fifteen minutes later with my food food the first thing I could think of was that it's a good thing I love Hollandaise sauce as much as I do because my food was absolutely drenched in it! It looked like the cook just took two giant soup ladles of sauce and covered my entire plate with it.
To be fair, the dill flavored, housemade Hollandaise sauce that they use is really good, it's just that I actually like to be able to taste all the different food on my plate. With the Mon Amour Benedict all I could really taste was sauce.
By the time I was done eating, and I'm a really quick eater, everything was just completely soggy because all it had been doing the entire time it was on my plate was soaking up sauce.
Don't get me wrong, I still enjoyed my meal, but if Cafe Agora would just go a little easier on the Hollandaise sauce my food would have been perfect. Actually, who am I kidding? They need to go a LOT easier on the sauce….