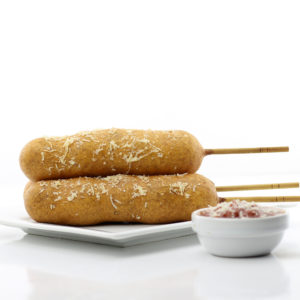 Sometimes when you want a corn dog real bad, but don't have any hot dogs on hand and don't feel like going to the grocery store you have to improvise. That's how I ended up making these Mini Meatball Corn Dogs!
At this point after making Breakfast Burrito Corn Dogs, Macaroni and Cheese Corn Dogs, Pulled Pork Corn Dogs and even Leftover Halloween Candy Corn Dogs I'm pretty much convinced that anything that gets dipped in corn dog batter and deep fried is instantly better. I mean seriously, what food out there wouldn't benefit from a sweet, crispy coating?
I actually thought about individually dipping each meatball in batter and deep frying it, but when you can fit five meatballs on a corn dog stick and just dip and fry them all at once that seemed kind of pointless. I suppose the individually deep fried ones would make for a good appetizer if you're having a party at your house or something though.
As soon as my Mini Meatball Corn Dogs were out of the deep fryer I grated some Parmesan cheese over them, which due to the fact that they were nice and warm helped the cheese melt a bit and stick right to them. The only thing left to do after that was to dip them in marinara sauce and then proceed to eat all four corn dogs I made in about ten minutes. Yeah… they were pretty good….
Oh, and if corn dogs aren't your thing you could always just bake some edible garlic bread bowls to eat your meatballs out of….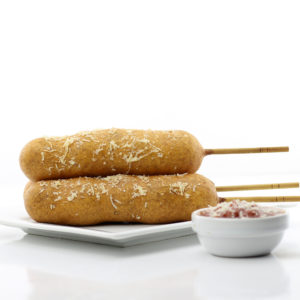 Mini Meatball Corn Dogs Recipe
Nick @ DudeFoods.com
Sometimes you want a corn dog real bad, but you don't have any hot dogs at home so you have to improvise and use mini meatballs instead!
Ingredients
2

quarts

oil

for frying

20

mini meatballs

4

corn dog sticks

or chopsticks if you can't find corn dog sticks

1

cup

cornmeal

1

cup

flour

¼

cup

sugar

¼

teaspoon

salt

⅛

teaspoon

pepper

4

teaspoons

baking powder

1

egg

1

cup

milk

Parmesan cheese

Marinara or your preferred dipping sauce
Instructions
Heat oil in deep fryer or heavy skillet to 375°F.

Cook mini meatballs according to the directions on the package.

Slide 5 mini meatballs onto each corn dog stick.

In a bowl, combine cornmeal, flour, sugar, salt, pepper and baking powder. Stir in egg and milk.

Transfer corn dog batter to a tall glass and dip the mini meatball sticks one by one into the batter.

Fry corn dogs for 3 minutes or until golden brown.

Drain on paper towels, top with shredded Parmesan cheese and serve with marinara or your preferred dipping sauce.