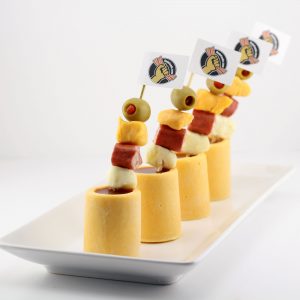 Well, here it is… the most Wisconsin thing I've ever made! Mini Bloody Marys served in edible Cheddar cheese shot glasses!
The silicone shot glass mold that I bought last year to make Pancake Shot Glasses and have since used to make Cornbread Shot Glasses and Spaghetti Noodle Shot Glasses is quickly becoming my most utilized kitchen tool.
This time around I melted some Cheddar cheese and poured it into the silicone mold, which I then moved to my refrigerator until the cheese hardened back up. After a couple hours I had eight completely edible Cheddar cheese shot glasses!
Next up on the agenda I just need to figure out a way to make larger edible cheese pint glasses! Then again though, with the shot glass version it's always fun to tell people how you just had five or six Bloody Marys.
It's like the time I was headed to Lambeau Field for a Green Bay Packers game with my buddy Allen and grabbed a couple cases of Miller Lite from a liquor store on the way up there without realizing they were cases of 8 ounce cans. We looked like total weirdos tailgating with our mini beers, but on the plus side we were able to tell everyone at the game how we crushed 20 beers each prior to even getting inside the stadium.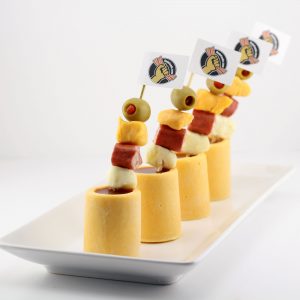 Mini Bloody Marys in Edible Cheddar Cheese Shot Glasses Recipe
Nick @ DudeFoods.com
Do you love a good Bloody Mary? Then you'll love it even more when you're drinking it out of an edible Cheddar cheese glass!
Ingredients
1

cup

milk

4

cups

Cheddar cheese

shredded

2

ounces

vodka

1/2

ounce

Worcestershire sauce

1/4

ounce

A.1. Sauce

11 1/2

ounces

tomato juice

3

dashes Tabasco Sauce

Cajun seasoning

Onion salt

Celery salt

Pepper

Your choice of garnishes

I used cheese curds, summer sausage sticks and pimiento stuffed olives
Instructions
Add milk to a saucepan over medium heat, add shredded Cheddar cheese and stir continuously until cheese is completely melted and smooth.

Pour cheese into silicone shot glass mold and using a spatula spread cheese into the cavities in the mold. It would also probably be useful to pour the cheese a little more slowly than I did in the video above.

Transfer the shot glass mold to the refrigerator for two hours or until the cheese has hardened back up. Alternatively, you could also transfer it to your freezer and just freeze the Cheddar cheese shot glasses until about 30 minutes before you plan to use them.

Remove the shot glass mold and using a sharp knife slice off any cheese that hardened over the top of the mold so your shot glasses end up with a flat bottom. Or again, just pour the cheese more slowly than I did initially and this shouldn't even be a problem.

Remove the Cheddar cheese shot glasses from the mold by turning the mold inside out and popping them out.

In a cocktail shaker combine vodka, Worcestershire sauce, A.1. Sauce, Tabasco Sauce and tomato juice. Add Cajun seasoning, onion salt, celery salt and pepper to taste and shake until mixed.

Pour into mini Cheddar cheese shot glasses and garnish.