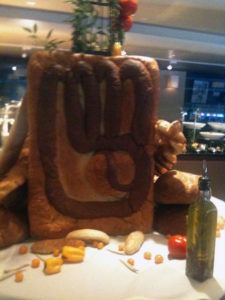 The bar that my fiancé works at has a few different Milwaukee Brewers tailgate parties throughout the course of each baseball season where for $35 you get a t-shirt, a ticket to the game, bus transportation to and from the game and the best part of all, two and a half hours of all the beer and food you want before the game! I usually put down a pretty decent amount of chow over the course of one of these tailgates, so I figured that documenting my food intake for DudeFoods would be a great idea.
We started off at the bar at 10am, and after spending the first hour and a half drinking beer I was finally getting a little hungry, so I grabbed a foot long hot dog on a pretzel bun, some pasta salad and some potato salad. After finishing my first plate and drinking a couple more beers I decided to have a cheeseburger and some more potato salad. Not wanting to get too full before the game, and knowing that Miller Park has a pretty wide selection of food choices, I opted not to eat anymore at the bar, so I just had a few more beers and then boarded the bus and headed to the game.
While I normally stick with the classics such as hot dogs, cheese fries or nachos while attending baseball games we decided to class things up a little bit this time and head to the all you can eat brunch buffet at the NYCE Stadium Club, which is located inside Miller Park. I was still pretty full from the two plates of food I ate before the game, but considering that the buffet was $25 a person I wanted to make sure I got my moneys worth.
For my first trip up to the buffet I started off with a made to order omelet that included ham, cheese, peppers and mushrooms. While the chef was preparing my omelet I grabbed another plate and filled it with sausage, bacon, eggs benedict, some chicken cordon bleu and a piece of focaccia bread that I covered in cream cheese. After finishing all of that I headed back up and grabbed a couple pancakes, some more eggs benedict and more chicken cordon bleu.
On my third trip up to the buffet I decided to go with a waffle, some more bacon and sausage, more eggs benedict and yet another helping of chicken cordon bleu. Can you tell that I'm a big fan of eggs benedict and chicken cordon bleu yet?
At this point I was pretty stuffed, but it was only the seventh inning so I decided to get one final plate of food. For this plate I piled on two more pancakes, more eggs benedict and one final serving of chicken cordon bleu. Then I grabbed an apple cheese blintz for desert.
Once I finished my final plate, let my food digest a little and watched the Brewers hold onto their lead and beat the Pirates we boarded the bus and headed back to the bar. After more drinks back at the bar and four or five rounds of shots I was getting a little hungry again so our group decided to split a basket of fries, a basket of cheese curds, a sausage pizza and a basket of popcorn chicken. The next day I woke up so full that I skipped breakfast and couldn't even finish my lunch. That's how you know you had a successful tailgate!