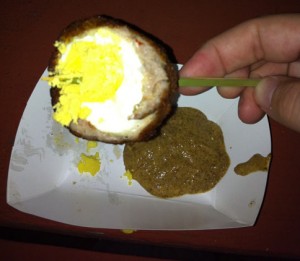 One great thing about Milwaukee is the huge variety of ethnic festivals that we have each year, and all the amazing food that comes along with them. I recently headed down to Irish Fest and within an hour I was completely stuffed to the point where walking was almost uncomfortable.
First up was a bread bowl filled with Irish stew followed by two potato pancakes. The potato pancakes were great and came with sour cream on the side, which I've always felt was a really underrated topping for food. Yeah, people use sour cream all the time on tacos and burritos, but in my ideal world it would be used more often on things like sandwiches.
After the potato pancakes and Irish stew were gone I tried a scotch egg, which I'd never actually heard of until that day. A scotch egg consists of a hard-boiled egg that is wrapped in sausage, covered in breadcrumbs and then deep-fried. The one I tried at Irish Fest also came on a stick.
Next up was a baked potato covered in Irish stew. The potato was so big and came with so much Irish stew that it actually took up an entire plate. After that I tried two different Reuben sandwiches (I bought the second one because the first one was pretty dry and not very good) and then topped it all off with a spinach puff pastry. All in all it was a pretty decent night for good food…