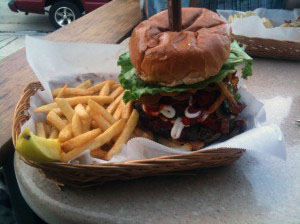 When most people see the acronym B.Y.O.B. they immediately think of "bring your own beer," but those who spend their Monday nights at Leff's Lucky Town like I often do know that it instead stands for "build your own burger."
Between the hours of 11am and 11pm on "Meatcake Mondays" as Leff's calls it, $4 (or $5.25 if you wanna make it a double) will get you a 1/3 pound burger with as many toppings as your little heart desires. They even have ten different sauces you can add to your burger, such as bleu cheese dressing and salsa. Need a nice refreshing beer to wash down all that food? On Mondays at Leff's you can also get $2.50 bottles of Miller High Life and High Life Lite.
I stopped down on a recent Monday night, ponied up to the bar, ordered a drink and grabbed a burger order form. I was feeling pretty hungry that night so I decided to make my burger a double and add American cheese, fried mushrooms, onion strings, black olives, lettuce, tomato and some sour cream and marinara sauce to finish things off. When my burger arrived I noticed that it looked considerably larger than usual and then I realized that my buddy Chris was cooking that night and had thrown on an additional burger patty for for a total weight of a pound. This thing was HUGE. I'm talking huge to the point where they had to stick a knife through it to keep it upright when they were serving it to me because it wouldn't even stand up on its own.
The burger itself was delicious. It was big enough to get me completely stuffed (that's what she said!), but not so big that I felt sick afterword, which is sometimes the case when I go this crazy with food. I've eaten one pound burgers before, but never with this many toppings included. I've discovered that when eating a burger this big adding a lot of toppings is kind of a must to break up the monotony of eating so much beef. Granted, all the toppings probably added another 1/3 of a pound or so, but it was completely worth it.