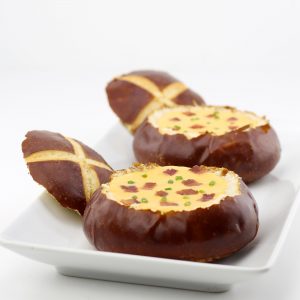 Writing a food blog means I spend a ton of time at the grocery store but honestly, I hate grocery shopping. It seems like no matter how many times I shop at the same exact store I can still never seem to find what I'm looking for. And shopping on Saturdays or Sundays when it's super crowded? No thanks….
So, when Sendik's asked me if I wanted to try out Sendik's Express — their online shopping experience that they offer here in the Milwaukee area — I knew that I needed to check it out.
The way Sendik's Express works is that you go online, order anything you want from Sendik's — with no minimum order — choose a pickup date and time and then one of their personal shoppers picks and packs you order. All you need to do at the pickup time is pull into the parking lot, give them a call and they'll bring your groceries right out to your car!
The first thing I noticed when using Sendik's Express is that unlike another fairly popular grocery store chain here in the area — who I'm not going to name — the price you pay online matches exactly with what you'd pay in the store — sale prices and all! Honestly, that's the way it should be so it's a shame that some stores think it's fine to charge you a fee and jack up the prices of the items you order online.
Your first Sendik's Express order is free and after that orders of any size are only $5.95. Obviously if you're only picking up a couple things you might as well just run into the store yourself, but for any reasonably sized order it's well worth it. I've also noticed that when ordering online I don't seem to make the spur-of-the-moment purchases that I usually make as I'm wandering around the grocery store, so I guess this could technically even save you money from not buying things you don't really need.
So what did I get through Sendik's Express. Since I've always loved the local beer and cheese selection that Sendik's has offered I decided to combine the two and make some Beer Cheese Soup! Yep, as much as I hate to think about it summer is just about over, and Beer Cheese Soup is absolutely perfect for fall. Plus, can you think of a more Wisconsin recipe?
I served my Beer Cheese Soup in hallowed out soft pretzel burger buns made right here in Milwaukee by Miller Baking Company. You don't have to serve it that way, but I've gotta tell you, it's the absolute perfect way to eat it. Plus, as the soup gets lower and lower in the bowl you can tear off pieces of soft pretzel to dip into the remaining soup. Miller Baking Company also make mini pretzel burger buns if you wanted to go that route to make smaller appetizer-sized versions, which would be perfect for any get-togethers you might be having. All in all my first Sendik's Express experience was absolutely perfect!
In fact, I had such a great first experience that I ended up using Sendik's Express again just a few days later when my friends and I were headed to a Brewers game. We placed our order ahead of time online and on the way to Miller Park we pulled up outside Sendik's, let them know we were there and they brought out our order of brats, burgers, buns, chips, dip and beer — basically everything that we needed for a successful tailgate!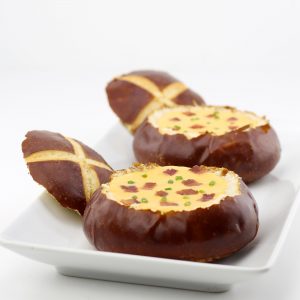 Beer Cheese Soup Recipe
Nick @ DudeFoods.com
Beer and cheese? Soup doesn't get any better than this! Plus, your Beer Cheese Soup will be even better when you serve it out of hollowed out pretzel bowls!
Ingredients
2

cups (8 ounces)

Cheddar cheese

shredded

2

cups (8 ounces)

Colby cheese

shredded

2

cups

milk

12

ounces

beer

1

teaspoon

Worcestershire sauce

1

garlic clove

minced

6

tablespoons

flour

1/2

cup

water

3

tablespoons

fresh chives

chopped

4

slices

bacon

8

pretzel buns for serving

optional
Instructions
Combine cheese, milk, beer, Worcestershire sauce and garlic in a saucepan and cook over medium heat, stirring occasionally until cheese melts.

Combine flour and water and add to cheese mixture.

Cook over medium heat, stirring constantly for 10 minutes or until soup is thick.

Fry and dice bacon.

If using pretzel buns as your serving dishes use a knife to carve each roll into a bowl. Spoon into bowls and sprinkle with chives and diced bacon pieces.