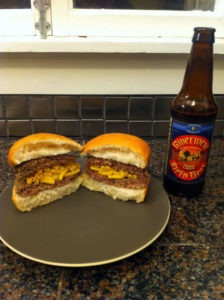 I was all set to make some macaroni and cheese and a burger for dinner one night recently when I thought to myself "why not just combine the two and stuff the macaroni and cheese inside the burger?"
I started off by cooking the macaroni and cheese on my stove top, and while I was waiting for it I flattened out two ground beef patties. Once the macaroni and cheese was ready I spooned some of it on top of the first ground beef patty, placed the second patty on top of that, flattened the edges of my burger and threw it on the grill.
The only problem I really ran across while making this burger was that as it was on the grill and started to shrink it kind of started coming apart around the edges. The burger still tasted great, but if I made one again I'd probably try to flatten the two ground beef patties out a little bit more so they'd cook faster and shrink a little less. Then again, the fact that I bought the cheapest ground beef I could find probably didn't help me too much with this burger either.