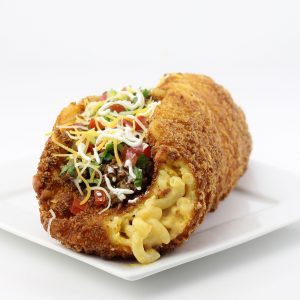 I've made some pretty ridiculous stuff in my day. Hell, I've made some pretty ridiculous stuff this year alone. Everything from a Big Mac breaded in White Castle sliders to mini Bloody Marys in edible Cheddar cheese shot glasses to deep fried chocolate chip cookie dough ice cream that was wrapped in even more cookie dough. These Macaroni and Cheese Taco Shells though? These are easily my favorite thing I've made in a very long time.
I don't remember how I originally came up with this idea, but it's been living in my head for what seems like forever. I just needed to figure out the logistics of how to get the shells to keep their shape as I deep fried them.
I've got a video below, but basically all I did was form some macaroni and cheese into a circle between two pieces of parchment paper and some aluminum foil, put two wooden dowels in the middle, folded the macaroni and cheese around the dowels and then froze them.
After I had my frozen shells I dipped them in an egg wash, coated them in panko breadcrumbs and then froze them again prior to dropping them in the 375° oil.
Once I had my deep fried macaroni and cheese shells I went back and forth in my head about what to fill them with. Pulled pork would have been amazing, but I decided to stick with a traditional taco filling of seasoned ground beef, lettuce, tomato, shredded cheese and sour cream.
Then I made a second one and filled it with even more macaroni and cheese, hot dogs and ketchup because thanks to my wife's place of employment I finally have health insurance again, so if I have a heart attack it's all good. You know, aside from the part where it could possibly kill me….
Plus, now that I've got the process down for making these the possibilities are pretty much endless as far as what kinds of crazy taco shells I can make. Taco Bell already has a potato taco shell, but what about a mashed potato shell? Watch out Taco Bell! I'm coming for you!
And by "coming for you" I mean "Please trade me a lifetime supply of Taco Bell in exchange for one or two of my awesome taco shell ideas…."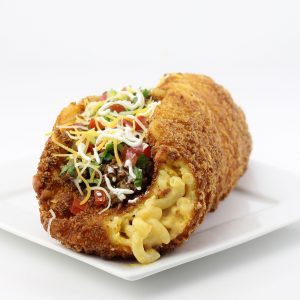 The Macaroni and Cheese Taco Shell Recipe
Nick @ DudeFoods.com
Have you ever dreamed of a taco shell made out of macaroni and cheese? If so then this recipe is for you!
Ingredients
16

ounces

pasta

4

tablespoons

butter

3

tablespoons

flour

3 1/2

cups

milk

4

cups (16 ounces)

Cheddar cheese

shredded

8

eggs

6

cups

panko breadcrumbs

Your choice of taco filling
Instructions
Cook pasta according to the directions on the package.

In a saucepan, melt butter over medium heat and stir in flour. Add 3 cups of milk and reduce heat to low. Stir in shredded Cheddar cheese slowly until melted and pour over cooked pasta.

Form macaroni and cheese into a circle over a piece of parchment paper (I used a springform pan to do this), top with another piece of parchment paper, flatten it out, form it into the shape of a taco shell (I did this by forming the macaroni and cheese around a couple of wooden dowels, but in lieu of wooden dowels even something like the cardboard from the middle of a roll of paper towels should work), wrap in aluminum foil and freeze for at least an hour.

Set up a dredging station with two bowls — beaten eggs and 1/2 cup milk in the first one and panko breadcrumbs in the second one.

Submerge the macaroni and cheese shell in egg wash and coat in panko breadcrumbs. Repeat this step a second time if necessary.

Freeze for at least another hour.

Heat oil in deep fryer or heavy skillet to 375°F.

Fry your taco shell for 5 minutes.

Drain on paper towels, fill with your choice of taco fillings and enjoy!