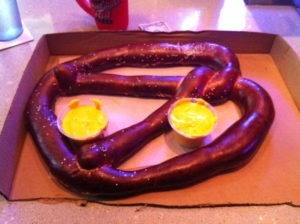 I was hanging out at Leff's Lucky Town on New Year's Day drinking beer and watching the Wisconsin Badgers play in their first Rose Bowl game in over ten years when one of the bartenders announced that they had giant soft pretzels on sale for $7.
Since Leff's already has some pretty decent game day specials on food like $2 cheese fries, nachos and regular sized soft pretzels I figured that for $7 this thing must be pretty big.
Until they actually brought my pretzel over however there's no way I could have imagined just how huge it actually was though. Don't let the first picture fool you, those nacho cheese cups were at least double the size of the normal sized cheese cups that you get with most soft pretzels. This thing was about the same size as my entire chest, and on top of that it tasted great!
Once I was done with my pretzel I ate a double California Burger and some fries. All in all I guess you could say that I had a pretty good Saturday. You know, aside from the Badgers losing the Rose Bowl…