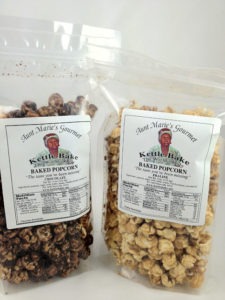 I've been getting a ton of food sent to me lately, and one of the better things I've gotten recently has been this oven baked popcorn courtesy of Aunt Marie's Gourmet.
It's funny, even after reading the "About Us" section of their website three or four times now I still can't really follow it.  Apparently the company was started by a computer industry guy who lost his job in the late 90's when the dot-com bubble burst. He then started selling baked goods to various office workers around the Colorado Springs area and eventually met a four-fingered man from Montana who passed along his grandmother's oven-baked popcorn recipe. Weird right?
All you really need to know though is that this popcorn is really good. I mean really REALLY good. You know how every time you eat caramel corn it tastes sort of chewy and stale regardless of how old it actually is? This popcorn is similar to caramel corn except that it's as fresh tasting as popcorn that was just popped five minutes ago.
As of right now they offer two different varieties, chocolate and praline, both of which are delicious. According to their website they plan on adding a couple more flavors soon, and if those additional flavors are half as good as the two they offer now I have no doubt that they'll be great as well.
Wanna try it for yourself? Just head over to the Aunt Marie's Gourmet website. A half gallon canister that weighs in at 13 ounces will set you back $15.