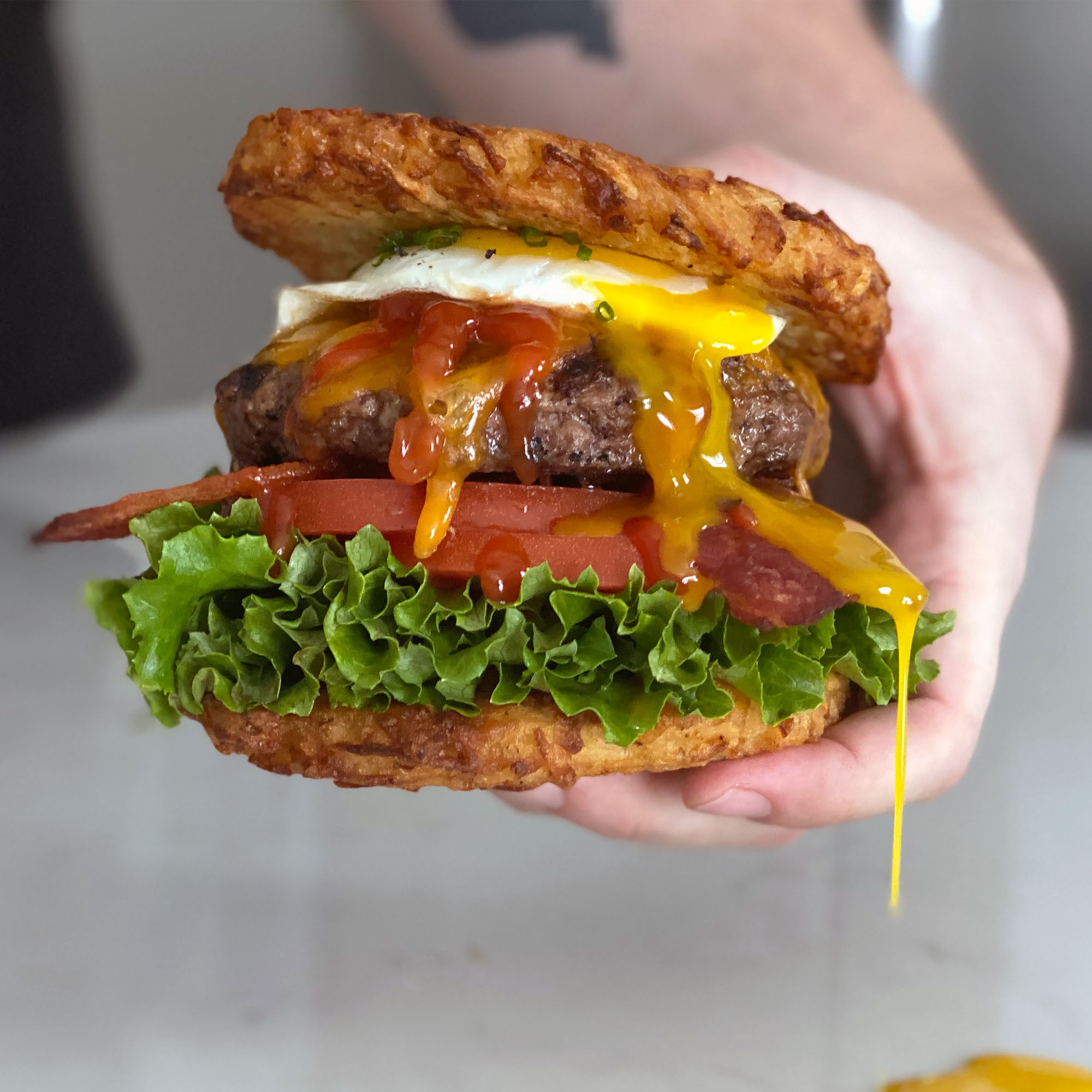 I originally did a version of this hash brown bun seven years ago, but was never really happy with how it turned out.
Back then I used metal egg rings to form my hash brown buns, but due to the size of the egg rings my buns weren't very large.
The sandwich I made with them still tasted good, but with such small buns all I could really pack between the them were a couple breakfast sausages and a fried egg.
This time however I decided to use springform pans to create my hash brown buns, which left me with buns big enough to use for this amazing breakfast burger!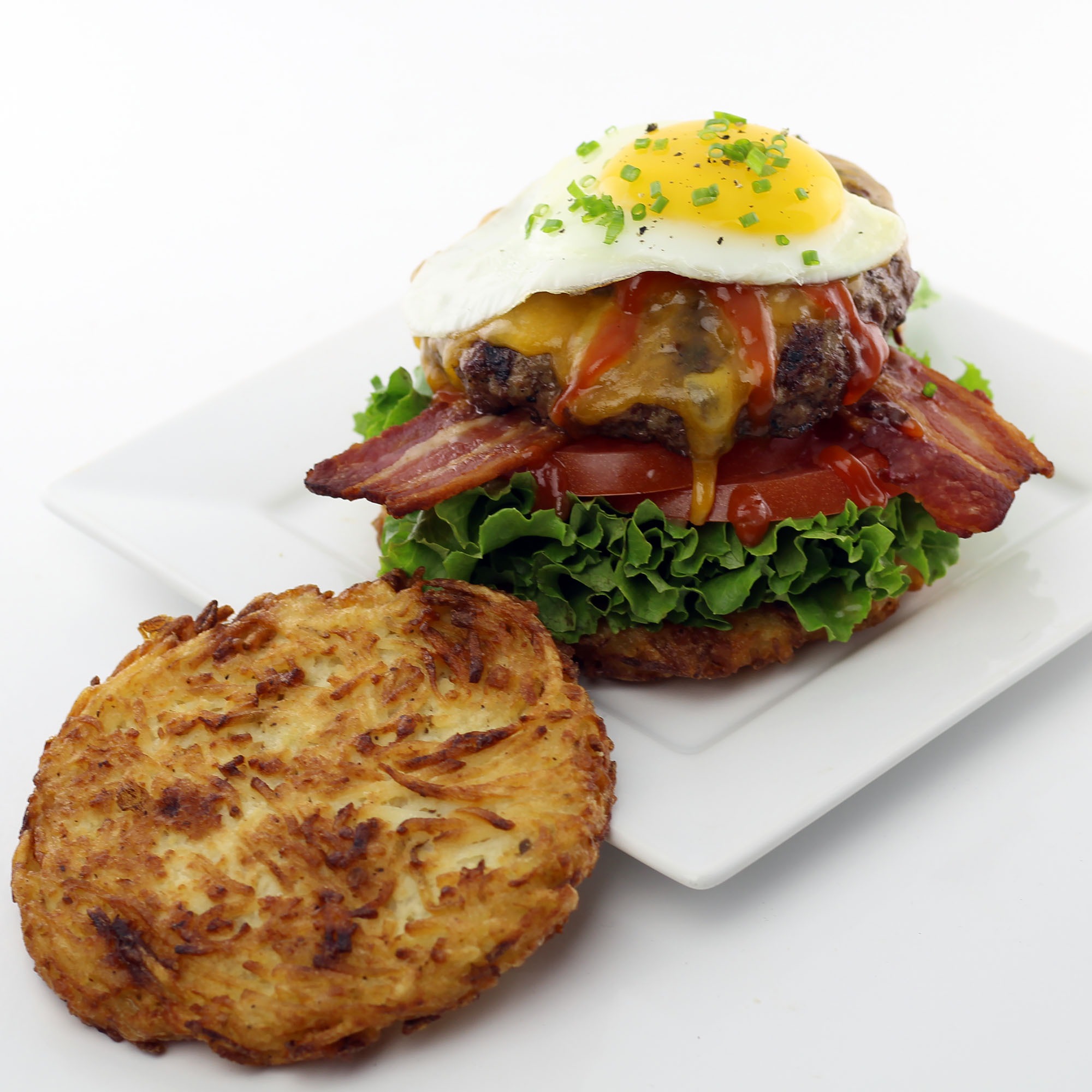 Creating the buns is fairly simple. All you need to do is pick up a bag of shredded hash browns from the grocery store, pack them into springform pans that are sitting in a skillet over medium heat and cook them until golden brown. By using five inch springform pans I was able to make two top buns and two bottom buns from a 20 ounce bag of hash browns.
I was actually surprised how well these hash brown buns held together — especially since my bacon cheeseburger was topped with a sunny-side-up egg — but as long as you pack the hash browns nice and tight in the springform pans and cook them long enough you should be fine. Mixing an egg in with them would have probably helped them hold their consistency even better, but it certainly isn't necessary.
Since these giant circular hash browns were basically the same size as potato pancakes and since here in Wisconsin potato pancakes are almost always served along with a fish fry I think the only logical thing to do next would be to do a potato pancake bun fish fry sandwich!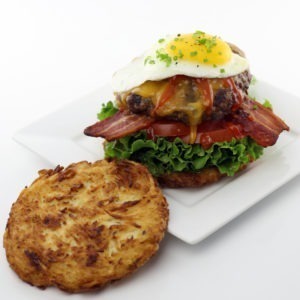 Hash Brown Bun Breakfast Burger Recipe
Nick @ DudeFoods.com
If you're a fan of burgers and hash browns then you need to make this breakfast burger that swaps out the traditional buns for hash brown buns!
Ingredients
1

package (20 ounces)

hash browns

shredded

1

pound

ground beef

2

slices

Cheddar cheese

1

teaspoon

olive oil

2

eggs

your choice of burger toppings

I went with bacon, lettuce, tomato, ketchup and diced chives
Instructions
Place 2 springform pans — with the bottoms removed — in a skillet over medium heat.

Pack each springform pan with approximately 5 ounces of of shredded hash browns and cook for 5 – 7 minutes per side until they reach your desired level of doneness. Repeat a second time to create a second set of hash brown buns.

Separate ground beef into 2 equal-sized patties and season with freshly ground black pepper and kosher salt.

Grill burgers for 5 minutes per side over medium heat or until they reach your desired level of doneness. Top each one with a slice of Cheddar cheese during the last minute on the grill.

Heat olive oil in a skillet over low heat, crack both eggs into it.

Cover the skillet with a lid and cook for 2 minutes or until the whites are set but the yolks are still runny.

Assemble your burgers by taking one hash brown bun and topping it with a burger patty, an over easy egg and your choice of toppings — I went with bacon, lettuce, tomato, ketchup and diced chives — and finally a second hash brown bun.