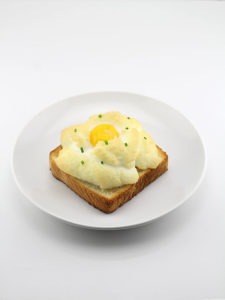 This is another dish similar to the Cheddar Bacon Ranch Pull Apart Bread that I made back in December where I can't even remember where I originally came across the recipe. All I know is that I've wanted to try making these Eggs in Clouds for a long time now, and a couple weeks ago I finally gave it a shot!
What's really cool about Eggs in Clouds is that the only ingredient you really need to make them — aside from the slices of toast that I put mine on — is eggs. What you see in the photos here are simply egg whites that are beaten and then baked in the oven with egg yolks on top of them. The egg white portion of Eggs in Clouds is basically meringue without the sugar.
To start things off you're going to want to separate a few egg whites from their yolks, combine all the egg whites in a bowl and beat them until they have about the same consistency as whipped cream. If you don't have an electric mixer you might as well not even bother trying to make these, because they would take WAY too long without one.
Even with my sweet KitchenAid mixer it still took about five or six minutes of whipping the egg whites before they were ready. About half way through you'll probably even want to give up because it'll look like nothing is happening to the egg whites, but just hang in there because it WILL happen and you WILL have an awesome breakfast because of it!
Once you're done whipping your egg whites grab a couple slices of toast and spoon them onto it. Then you need to create an indentation in the middle of your "clouds" for the egg yolks that you separated out earlier. I used an upside down shot glass and it worked perfectly, but I'm sure you could use your fingers just as easily and get the same result. All that's left to do after that is to bake your Eggs in Clouds in the oven at 450° for five minutes. If you like your yolks a little runnier you can also wait until half way through the baking process to add them.
I've also tried making Eggs in Clouds with a couple added ingredients. Diced bacon and shredded cheese for instance taste amazing when mixed in with the egg whites. I'm guessing that you can basically take whatever it is that you normally like to eat as part of your breakfast and toss it in and I'll taste pretty good. Red and green peppers? Why not! Chopped up breakfast sausage? Sure! The sky, or should I say the clouds, are the limit!