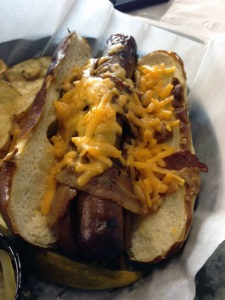 Every time I write a blog post it's either about a crazy creation I made at home or something delicious I ate at a restaurant. Well, today's story is a little different. This one is about a meal that totally let me down.
A couple weeks back my wife and I went to a Milwaukee Brewers baseball game with our friends Tom and Stephanie. Once inside the stadium we headed to the Johnson Controls Stadium Club where I noticed that they've added some new items to their menu since last year. One of them — the Brewers Brat Dog — caught my eye.
The menu described it as a "bacon wrapped, hot dog stuffed bratwurst with grilled onion and Cheddar cheese served on a pretzel hoagie." Actually, they described it a little differently, but that was due to the fact that whoever put the menu together apparently never learned how to spell the word "served." The randomly capitalized words and haphazard use of the space bar was also a nice touch, but who cares about all that because I was getting a hot dog… wrapped in bacon… stuffed INSIDE a bratwurst!
About fifteen minutes after placing my order our waitress arrived with my Brewers Brat Dog. My first thought when looking at it was that they had to have mixed up my order and served me the wrong thing. The pretzel bun, hot dog, bacon, cheese and onions were all there, but the hot dog certainly wasn't stuff inside a bratwurst.
I actually didn't see any brat at all until I noticed that it was cut in half and placed underneath the hot dog. Since when does putting one thing on top of another thing count as stuffing it?  Also, check out how small the bratwurst is. Oh, you can barely see it in the photos? That's because it's the smallest brat in the entire world! I wasn't even aware that they made them that tiny.
I know that food at sporting events is always priced a little high, but at $12 for a burnt hot dog, a miniscule amount of bacon, the tiniest brat of all time and some cheese that was obviously melted in a microwave it honestly doesn't get any worse than this. What a rip off….