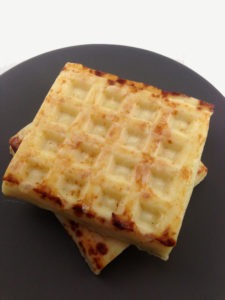 A while back I discovered Bread Cheese, or Juustoleipä as its been known for over 200 years in Sweden and Northern Finland where it originated. It's a pretty unique cheese in the sense that it's baked during the cheesemaking process, which caramelizes the sugars on the outside of the cheese creating a brown crust.
The thing that I love most about Bread Cheese though is that it doesn't melt quite like regular cheese does and is actually meant to be heated or sautéed prior to serving.
I first used it to create a grilled cheese that was made completely out of cheese. After that I made a few more of my 100% cheese grilled cheese sandwiches, added a couple burger patties and some bacon and came up with the Bread Cheese Bacon Double Cheeseburger. Since then though I've mostly just been frying the cheese and drizzling syrup on it, which is how I came up with my most recent idea — Bread Cheese Waffles!
I once again used cheese from Brunkow and Carr Valley — this time chopping it into squares that were perfectly waffle-sized. I then plugged in my waffle maker, waited for it to preheat, placed the two Bread Cheese squares into it and pressed down on the lid. 45 seconds later my Bread Cheese Waffles were finished! Now, I know that this isn't really any different than just frying the Bread Cheese in a pan and adding syrup but come on, how awesome does it look in waffle form!?