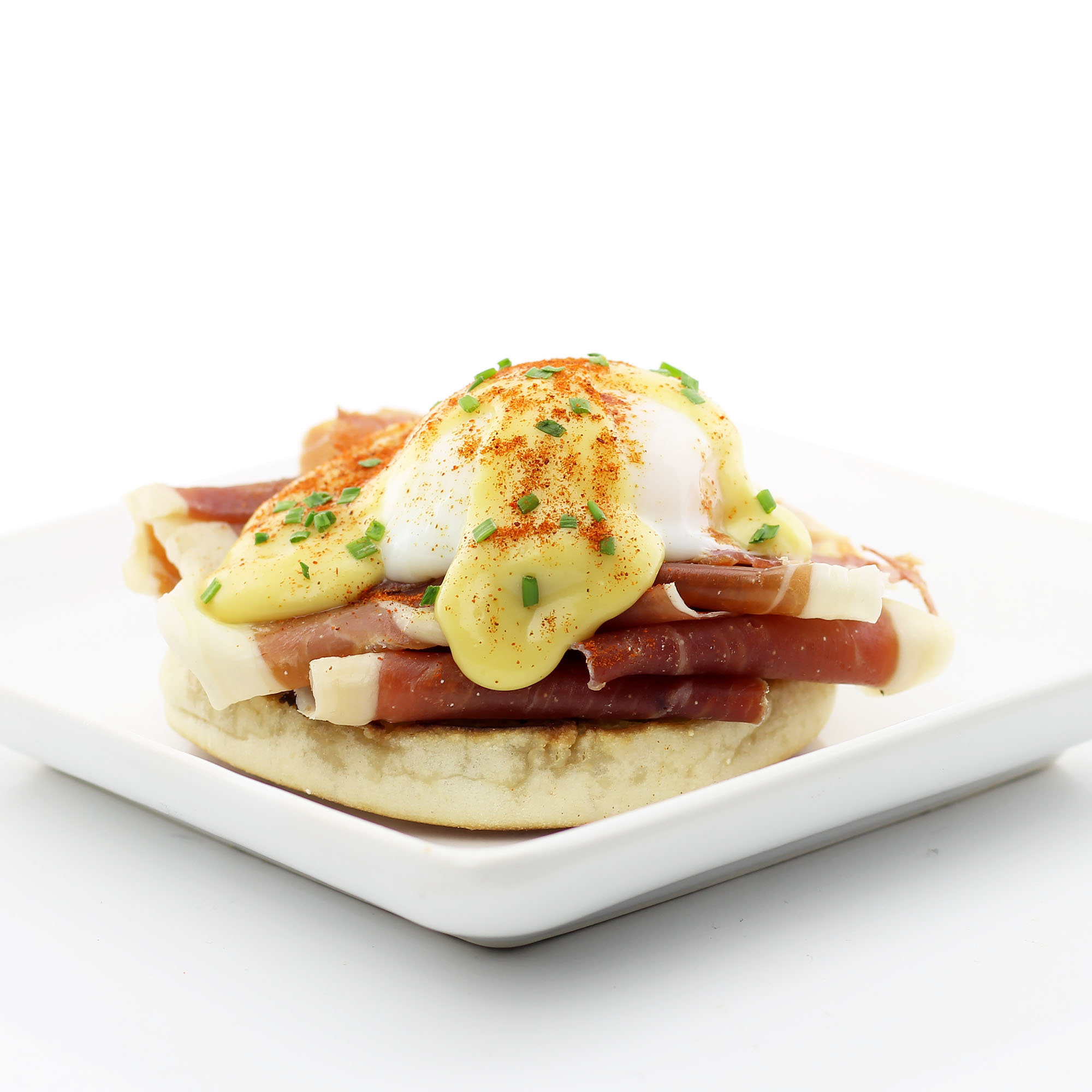 Breakfast is by far my favorite meal of the day and one of my favorite breakfast dishes is Eggs Benedict. There's just one problem with it — I've never been a fan of Canadian bacon.
In the past I've remedied this problem by swapping out the Canadian bacon for pulled pork, bacon, ahi tuna and at one point even a chicken fried steak.
Recently Jambon de Bayonne — also known as Bayonne Ham to those of us that don't speak French — asked me to use some of their European charcuterie as part of a traditional American dish Eggs Benedict immediately came to mind. After all, who can argue with replacing the often chewy Canadian bacon with a few ounces of delicious melt-in-your-mouth ham from France?
At this point you're probably wondering what makes Bayonne Ham so good. Well, it starts with the high-quality, whole fresh hams that they use, which are rubbed with a thick layer of special rock salt from a natural spring water source located in south west of France. It takes an average of ten to twelve months to make a Bayonne ham and you can taste the quality in each flavorful bite. All these characteristics are secured by a PGI, a European quality and origin distinction.
So how did Bayonne Ham compare to Canadian bacon as an Eggs Benedict topping? It wasn't even close, and now after trying this highly superior version I'm pretty sure that I'll never be able to go back to traditional Eggs Benedict ever again. In fact, I don't think I'll be able to go back to regular ham ever again either!
If you'd like to try Bayonne Ham you can head over to this post on Instagram for a chance to win some for yourself! And remember, when it's #MadeInTheEU you know it's good!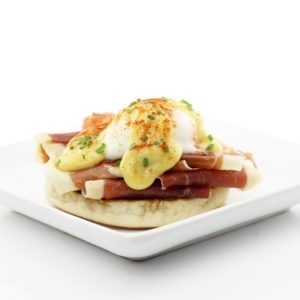 Eggs Benedict Recipe
Nick @ DudeFoods.com
Sure, Eggs Benedict is great on its own, but when you swap out the Canadian bacon for ham it's even better!
Ingredients
12

ounces

Bayonne ham

sliced

2

English muffins

4

eggs plus 3 egg yolks

2

teaspoons

white vinegar

1

teaspoon

salt

8

tablespoons

butter

melted

1

tablespoon

milk

1

tablespoon

lemon juice

1/8

cup

chives

diced

1

tablespoon

paprika
Instructions
Toast English muffins.

Heat 2 inches of water in a pan and add 1 teaspoon salt and 2 teaspoons white vinegar. Crack your eggs into small bowls, slowly pour your eggs into the water, cover the pan, turn off heat, let sit for 5 minutes and then remove poached eggs with a slotted spoon.

For the hollandaise whisk 3 egg yolks and combine with milk and lemon juice in a pan over medium heat slowly adding 8 tablespoons of melted butter. Whisk until thickened.

Assemble your Eggs Benedict by topping each English muffin with 3 ounces of Bayonne Ham, a poached egg and hollandaise sauce. Top with paprika and diced chives.