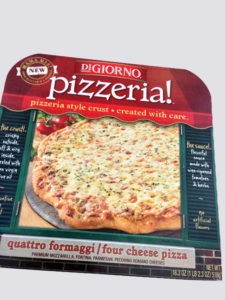 DiGiorno Pizza recently launched a line of four new pizzas called pizzeria! By DiGiorno and sent me a couple of them to try. For as popular as DiGiorno is though I'm pretty sure that until now I've never actually eaten one of their pizzas.
For my money the best frozen pizzas out there are Palermo's, which are made in my hometown of Milwaukee, and Home Run Inn, who have the most delicious frozen pizza crust I've ever eaten. Seriously, what is in their crust that makes it THAT good!?
By now, I've been seeing those "It's not delivery. It's DiGiorno!" commercials for years, so I decided to put their pizza to the test and see if I could fool my wife into thinking that it was in fact a delivery pizza.
I started off by texting her one afternoon telling her that I was in the mood for pizza for dinner that night. I was arriving home from work before she was that evening, so I told her I'd just grab a pizza on my way. Then, before she was done working I baked one of the pizzeria! By DiGiorno pizzas in my oven, cut it and disposed of the box.
"Where's the pizza from?" was the first thing she asked me as she walked in the door. "This new place I've been meaning to try" I replied. "Which place?" she questioned. Apparently I hesitated too long when trying to come up with an answer, and she followed with "This is one of those DiGiorno pizzas that you got in the mail isn't it?"
The jig was up. If I was really planning to fool her I never should have told her that they sent me the pizzas a couple weeks earlier. The fact that there was just a pizza sitting on the counter and no pizza box didn't help thing either I guess.  On the plus side though, it was some pretty good pizza!