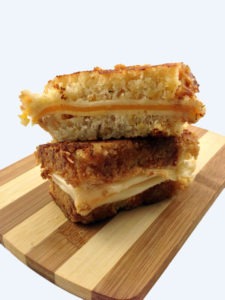 Anyone who has eaten at Red Lobster knows that the best thing on their entire menu is the one that comes before your meal. Yep, I'm talking about the complimentary Cheddar Bay Biscuits that are delivered to each table upon arrival.
As delicious as the biscuits are though, I recently came up with a way to make them even better! Now, I know that you're probably thinking "But Nick, how can Red Lobster's Cheddar Bay Biscuits possibly get any more delicious!?" By making an entire loaf of Cheddar Bay Bread, slicing it up and using said slices to make a grilled cheese with even more Cheddar cheese in between them, that's how! I call my creation the Cheddar Bay Grilled Cheese Sandwich!
What makes this sandwich so simple is that Sam's Club actually sells boxes of Cheddar Bay Biscuit mix in their stores now. Don't have a Sam's Club membership? No problem, you can actually make the mix yourself at home with just a few ingredients! In fact, I even have a tutorial on how to do so right here on DudeFoods!
I started off by combining two pouches of the Cheddar Bay Biscuit mix from Sam's Club and adding the necessary water and shredded Cheddar cheese. Then, I spooned the mixture into an 8 1/2″ x 4 1/2″ bread pan and threw it in my oven for 25 minutes at 425°. Once it was done baking I brushed some of the garlic herb butter mixture on top of the loaf and put it back in the oven for a couple more minutes just to let the flavor soak into the bread.
The bread did cook a little unevenly, which I didn't have a problem with since I was planning to turn the slices into a grilled cheese sandwich anyway, but if all you want are some slices of Cheddar Bay Bread you may need to switch up the baking time and temperature a bit.
After cutting my loaf of bread I took two slices, spread some more of the garlic herb butter mixture on the outsides of them, threw a couple slices of white Cheddar cheese and a slice of sharp Cheddar between them, heated it up in a pan on my stove and a few minutes later I was enjoying my Cheddar Bay Grilled Cheese Sandwich!
I know that overall it might seem like this sandwich contained a little too much cheese, but my slices of bread were thick enough that it wasn't overly cheesy. Also, cheese to me is almost like bacon in the sense that you can rarely ever have too much of it, but maybe that just comes from growing up in Wisconsin. Either way though it was a pretty amazing sandwich!