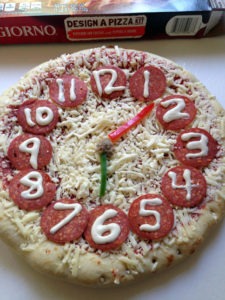 Back when I was a kid one of my favorite dinner experiences was when my mom would take me to the grocery store to buy a pizza crust and a bunch of toppings and we'd come home and she'd let me make my own pizza.I may not have been quite as adventurous foodwise way back then, but I still managed to come up with some pretty delicious creations!
The one annoying part about doing that though is that by the time you buy the crust and all the toppings you probably spend two or three times as much as you would on a decent frozen pizza anyway. Sure, it's a fun experience and all, but what if you could buy everything together? I'm talking crust, cheese, toppings and spices! Well, now you can with DESIGN A PIZZA™ kits from DiGiorno®!
As of now the DESIGN A PIZZA kits come in three different varieties:
Pepperoni and Sausage with Peppers & Onions
Spinach, Tomato & Red Onion with Pepperoni
Chicken, Green Peppers & Red Onions with Pepperoni
I'm definitely hoping to see more options in the future (how sweet would a breakfast version be?), but for now they've definitely got enough options to create some pretty delicious pizzas.
I still wasn't sure what kind of design I planned to go with even as I opened my Pepperoni and Sausage with Peppers & Onions kit, but then I noticed that it came with exactly twelve pepperoni, which for some reason made me think of a clock, so that's what I decided to make. It actually worked out perfectly because I absolutely love ranch dressing on my pizza and when it came time for me to add the numbers to the clock it was a prime opportunity for me to add some of it to my creation.
The one thing I never really liked about frozen pizzas is that it seems like the amount of toppings is always out of whack. You might buy a pizza and have plenty of pepperoni and sausage, but not enough peppers, or maybe you're not a huge pepper fan and wish your pizza had fewer of them. Now with these DESIGN A PIZZA kits, if you're not happy with how your pizza turns out you only have yourself to blame, since you're the one who put it together. They're a real game-changer when it comes to frozen pizzas, and if more frozen pizza companies don't start copying this idea I'll seriously be surprised. Oh, and DiGiorno? If you create a breakfast DESIGN A PIZZA kit, I would be over-the-moon with excitement!
I was compensated by DiGiorno® for this post. All opinions expressed within are my own.