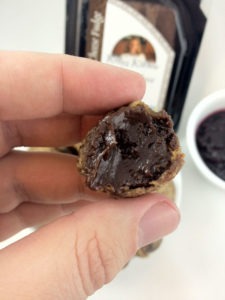 Here in Wisconsin deep friend cheese curds are extremely popular. The only problem with them is that they've always been viewed as an appetizer. Why should something so delicious only be served prior to a meal, or as a side dish accompanying a meal though? Why is their no dessert version?
As much as I'd love to take the credit for this delicious creation, the idea was actually planted in my head by my buddy Jeff from EatWisconsin.com when he told me about a Wisconsin cheese company named Sugar Brook Farms that makes a chocolate fudge cheese. Yep, you heard that right, they actually combine Wisconsin cheese, cream, cocoa and sugar into mouthwatering seven ounce blocks of chocolate fudge cheese. By now you can probably see where I'm heading with this blog post right? Dessert cheese curds using chocolate fudge cheese!
I started off by taking a block of the cheese and dividing it into 20 or so equal sized pieces which I then rolled into balls and put into my freezer. Then I got to work on whipping up a batter to dip them in. Since beer batter is often used when deep frying I opted to use that, and in keeping with the whole dessert theme the beer I chose was Oscar's Chocolate Oatmeal Stout, which is produced by a great Wisconsin brewery named Sand Creek.
After dunking the balls of chocolate fudge cheese in the beer batter I tossed them in my deep fryer and waited with eager anticipation as they turned golden brown and floated back up to the top of the 375 degree vegetable oil. A few minutes of cooling time later and my dessert cheese curds were ready to eat!
Since traditional cheese curds are often dipped in marinara sauce I decided to use a similar colored reddish dip for mine – homemade cranberry jam!
The chocolate fudge cheese has a consistency similar to cream cheese, so you know how when you spread cream cheese on a freshly toasted bagel it gets nice and soft and a little warm? These were pretty much just a chocolate version of that same thing. Even after being battered and deep fried the cheese kept a nice consistency and softened up without melting too much.
Since the chocolate fudge cheese is so rich I didn't sit down and shovel handfuls of dessert cheese curds into my mouth like I normally do with regular cheese curds, but enjoying a small bowl of them after my dinner was definitely a nice dessert option to have.