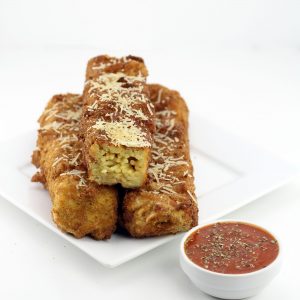 Knees weak, arms are heavy. I made some Deep Fried Spaghetti!
Back in 2015 I made Spaghetti Fries by twisting strands of noodles together, which I then breaded and deep fried.
They turned out awesome, but after I finished them I realized that a much better way to make them would be to flatten all the noodles into a baking dish and then just cut out fry shapes. Well, three years later I finally decided to give it a shot!
I'm not going to go so far as to refer to these as Spaghetti Fries, because as you can see from the photo and video below they're way bigger than fries are, but damn were they good!
To top things off I also sprinkled some fresh Sartori Parmesan cheese on them shortly after pulling them out of my deep fryer. Since the Deep Fried Spaghetti was still warm at the time the cheese melted to the outside of the breading, giving the spaghetti that perfect finishing touch.
Shout-out to Sartori by the way for constantly hooking me up with so much amazing cheese. Seriously, there's nothing better than the FedEx guy ringing your doorbell because he has a giant box of assorted cheese wedges for you.
I think the only thing that could have made this Deep Fried Spaghetti better would be if I'd added some mozzarella cheese right in the middle of my spaghetti noodle sticks — thus creating mozzarella sticks that are basically wrapped in spaghetti — or maybe even just mixed a bunch of Parmesan in right with the noodles. Either way though, this Deep Fried Spaghetti turned out pretty damn good!
Deep Fried Spaghetti Recipe
Nick @ DudeFoods.com
Spaghetti noodles coated in breadcrumbs and deep fried! It doesn't get much better than this!
Ingredients
2

quarts

oil

for frying

16

ounces

spaghetti noodles

8

eggs

2

cups

flour

1

cup

milk

4

cups

Italian style breadcrumbs

1/2

cup

Parmesan cheese

shredded

Marinara sauce for dipping
Instructions
Cook spaghetti noodles according to the directions on the package.

Drain spaghetti and pour into a 9″ x 13″ baking dish.

Beat 3 eggs and pour over spaghetti noodles. Mix thoroughly.

Please baking dish into your refrigerator or freezer for 2 hours or until spaghetti noodles are completely dry and firm.

Heat oil in deep fryer or heavy skillet to 375°F.

Slice spaghetti vertically into 8 equal sized portions.

Set up a dredging station with three bowls — flour in the first one, 5 beaten eggs and milk in the second one and Italian style breadcrumbs in the third one.

Coat each rectangle of noodles in flour, submerge in egg wash and cover in breadcrumbs. Repeat if necessary.

Fry in batches for 2 minutes per side or until breadcrumbs are golden brown.

Drain on paper towels, sprinkle with Parmesan cheese and serve with marinara or your preferred dipping sauce.