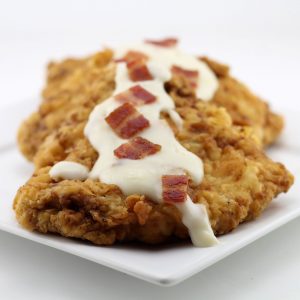 For the past three years now I've been working with Smithfield to create recipes using their various pork products.
In case you've missed any of my previous posts you can click here to check out all the different dishes I've come up with thus far.
For my most recent recipe they shipped me one of their Roasted Garlic & Herb Marinated Fresh Pork Sirloins, which I used to make some pretty delicious Chicken Fried Pork Sirloin that I topped with the same Bacon Country Gravy that I used on the Hickory Smoked Brown Sugar Boneless Pork Chop Waffle Breakfast Sandwich that I made back in July.
What's so great about using Smithfield's Marinated Fresh Pork for this Chicken Fried Pork — or for any recipe — is that since all the prep work is already done for you it really takes no time at all to get a great home-cooked meal on the table. In fact, it almost feels a little bit like cheating because something this simple should taste this good.
Have you got a great tip on how you get your dinner ready in 30 minutes or less using Smithfield Marinated Fresh Pork? Then you're going to want to enter their Real Flavor, Real Fast Contest for a chance to win a trip to Wine Country — including roundtrip airfare for two to San Francisco, two nigh premium hotel accommodation in Napa Valley, two VIP passes for tours and tastings at two premium Napa wineries, lunch for two on the Napa Valley wine train, a $500 dining credit and a $300 transportation credit — or one of hundreds of other great prizes! Even if you don't have a tip or trick of your own you can still vote for your favorite for a chance to win a $25 Visa gift card!
Or, if you're not in the mood for Chicken Fried Pork Sirloin why not pick up one of Smithfield's pork loin filets and make this Filet Mignon Pork with Buttery Mushrooms? Plus, you can always head over to the recipes section of Smithfield.com where you're pretty much guaranteed to find something you like!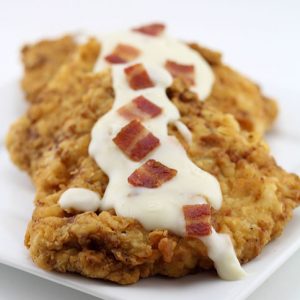 Chicken Fried Pork Sirloin With Bacon Country Gravy Recipe
Nick @ DudeFoods.com
If you like chicken fried steak then you'll love this chicken fried pork tenderloin that's topped with bacon country gravy!
Ingredients
1

Smithfield Roasted Garlic & Herb Marinated Fresh Pork Sirloin

4

slices

Smithfield bacon

2

quarts

oil

for frying

2 3/4

cups

flour

2

tsp

ground black pepper

1/2

tsp

garlic powder

1/2

tsp

onion powder

1/2

tsp

paprika

1

tsp

salt

4

eggs

5

cups

milk
Instructions
Cook bacon according to the directions on the package and save the grease to use for the gravy.

Heat oil in deep fryer or heavy skillet to 375°F.

Slice Smithfield Roasted Garlic & Herb Marinated Fresh Pork Sirloin into four equal sized portions and butterfly each piece by slicing almost completely through it and then "unfolding" it to twice its original size.

Place plastic wrap over each piece of pork sirloin and pound it with a meat tenderizer until it's 1/4″ thick.

Set up a dredging station with two bowls — 2 cups flour, 1 tsp ground black pepper, 1/2 tsp onion powder, 1/2 tsp garlic powder and 1/2 tsp paprika in the first one and 3 beaten eggs and 1 cup milk in the second one.

Coat each pork sirloin piece in the flour and spice mix, submerge in egg wash and then coat in the flour and spice mix once again.

Fry in batches for 3 minutes per side or until a meat thermometer inserted into the pork sirloin reads 145°.

For the gravy heat the pan with remaining bacon grease on low and whisk in 3/4 cup flour, 1 teaspoon salt and 1 teaspoon ground black pepper.

Slowly stir in 4 cups milk and continue cooking and whisking until thick. If you want a thinner gravy add more milk. Alternatively, if you'd like a thicker gravy add more flour.

Dice the four slices of bacon, add to the gravy and remove the pan from heat.

Top Chicken Fried Pork Sirloin with the Bacon Country Gravy and serve.