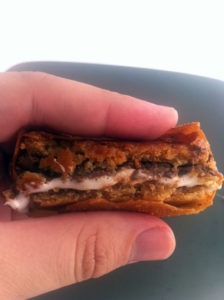 My quest to deep fry every possible thing I can think of has brought me to my latest creation; deep fried s'mores. Why deep fried s'mores you ask? Excellent question! My main problem with regular s'mores is that it seems like every single time I take a bite of one of them the graham cracker falls apart and I end up with chocolate and/or marshmallow all over my fingers. My theory prior to making these was that the deep fryer would soften up the graham crackers a bit, which in turn would stop them from crumbling as I enjoyed my s'mores.
I started off with the same egg roll wrappers that I used when I made deep fried poutine. I then added graham crackers, Hershey's chocolate and marshmallows before wrapping them up like delicious little presents and tossing them into my deep fryer. On a related note, did you know that they make flat marshmallows now just for s'mores? I had no idea until now, but I used them with these deep fried s'mores and they worked perfectly.
Also, have you ever noticed that anytime anything is deep frying, no matter what it is, the smell is almost always exactly the same? This was the first time for me where it actually smelled different, as my entire kitchen filled with the smell of freshly made s'mores. Do any candle companies make s'mores scented candles yet? Because if they do I want to buy a couple of them!
Alright, I feel like 'm getting off track here. You probably want to know how these tasted right? One word… Delicious! As I suspected, the deep frier softened up the graham crackers, so instead of crumbling when I bit into them I was instead met with the perfect mix of cracker, melted Hershey's chocolate and gooey marshmallow in each and every bite. The only real downfall to the outer deep fried shell of these was that it kind of threw off the graham cracker crunch to marshmallow to chocolate ratio, but that could easily be solved by simply adding a couple more marshmallows and a couple more pieces of chocolate to each one.