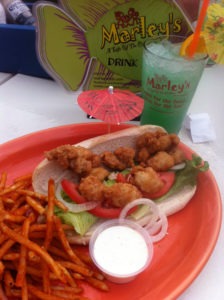 I spent a weekend in Wisconsin Dells recently for my buddy Allen's bachelor party, and on our second day after a drunken round of miniature golf we headed to Marley's for lunch. As you can probably tell from the name, Marley's happens to be a Caribbean themed restaurant, serving jerk chicken and pork, seafood and an assortment of sandwiches among other things. One menu item immediately caught my eye though; the alligator sandwich.
The sandwich consists of breaded and deep fried alligator meat served with lettuce, tomatoes and onions on a hoagie bun. It also includes fries and a side of homemade ranch dressing. I've eaten alligator jerky before, but that's the extent of my alligator consumption, so I was excited to try this sandwich and Marley's definitely didn't let me down. If you've never tried alligator meat before the best way to describe it (even though it sounds totally cliché) is that it tastes like a fishy version of chicken.
Also, feel free to make fun of me all you want for the drink with the umbrella in it, but these alcoholic concoctions that Marley's refers to as the "Cool Breeze" (Rum, Blue Curacao and fruit juice) were buy one get one free the day we were there and they were damn good!