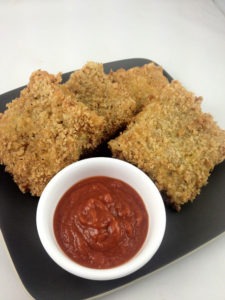 My quest to deep fry every single food I can possible think of has brought me to my next target — lasagna!
I started my most recent experiment by cooking some lasagna noodles and browning a 50/50 mix of seasoned ground beef and ground Italian sausage which I then added some pasta sauce to.
When the noodles were done I cut them in half and then topped the halves with ricotta cheese, my ground beef / ground Italian sausage mix and some shredded mozzarella cheese before folding the noodles in half and forming pockets by pressing down all the edges.
After storing the stuffed noodles in my freezer for half an hour to insure that they'd keep their shape and stay together during the deep frying process I took them out and dusted them with flour, dipped them in egg and then coated each one heavily with some Progresso "Italian Style" bread crumbs that I found in my kitchen cabinet. After that it was on to the deep fryer!
The squares of deep fried lasagna turned out WAY larger than I originally envisioned them in my head, but overall they ended up looking pretty awesome, and on top of that they tasted delicious. If I made them again though I'd probably try stuffing some small pasta shells with the meat and cheese instead and then battering and deep frying those, just to turn the deep friend lasagna into more of a hand held snack instead of the larger squares that I ended up with.