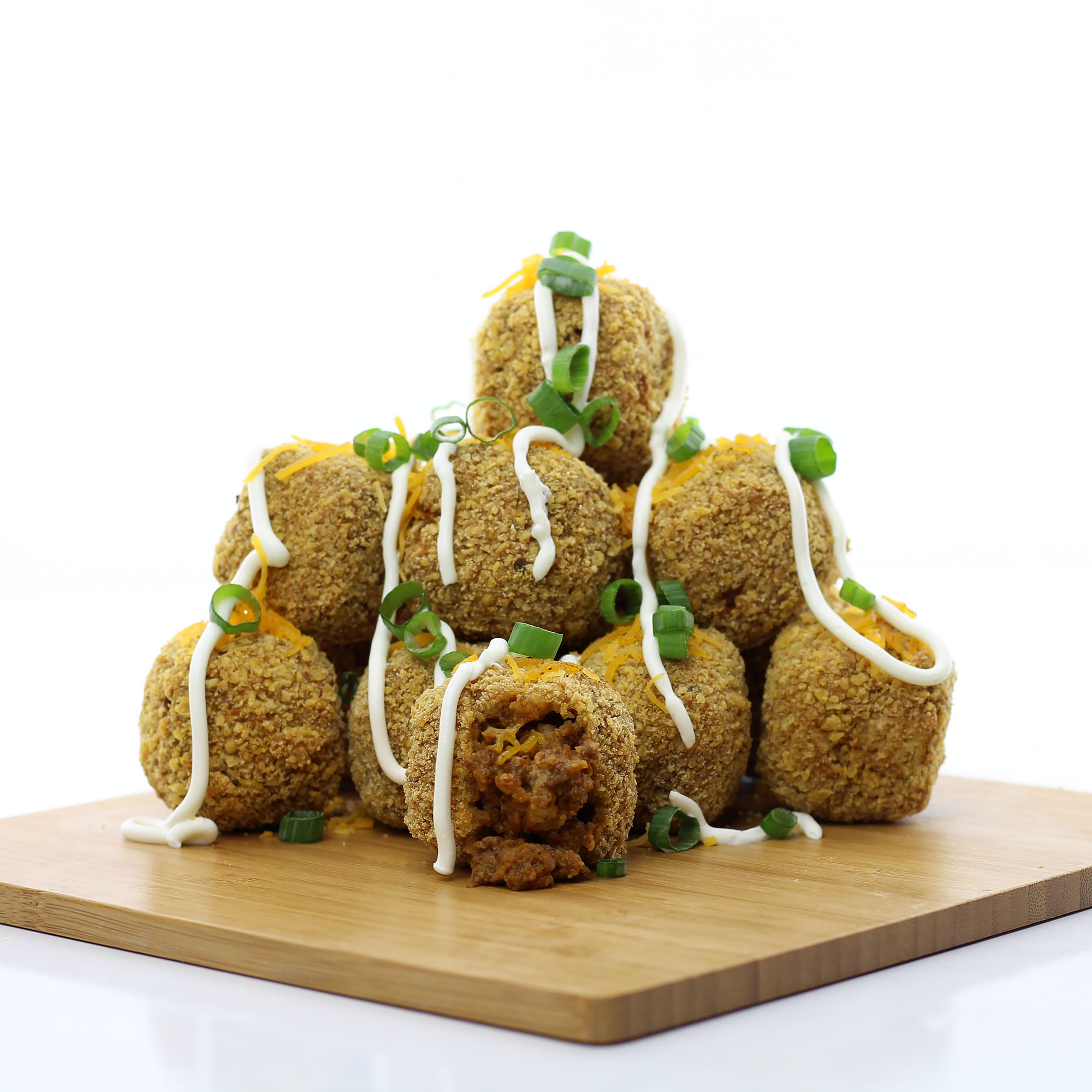 Well, summer is officially over and although the weather here in Wisconsin hasn't gotten too bad yet I'm also fully aware that it'll probably be freezing and snowing in no time.
So, in preparation for this upcoming winter I brought all my patio furniture in for the year — except for my grill because like most Wisconsinites I'm totally fine hanging out in my backyard next to the grill even when the weather drops into the single digits — and I came up with this recipe for deep fried chili!
I started off by whipping up a pot of chili that I poured into a silicone ice cube tray and put in my freezer. Then, once I had frozen cubes of chili I coated them in flour, dipped them in an egg wash, breaded them and deep fried them. I'm by no means a chili expert and my chili recipe is pretty basic so if you have a chili recipe that you prefer then by all means use that one.
When it came time to decide what to bread my cubes of chili in I could have gone with Flamin' Hot Cheetos since that's pretty much what I bread everything in, but since I'm a big proponent of adding Fritos to my chili I opted for those instead. Sure, it didn't look quite as cool as chili breaded in Flamin' Hot Cheetos would have looked, but it still tasted pretty damn good!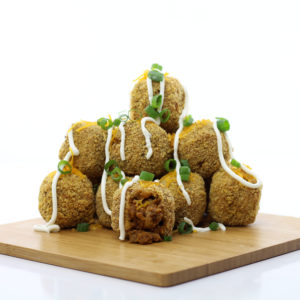 Deep Fried Chili Recipe
Nick @ DudeFoods.com
When regular chili just won't do why not deep fry it?!
Ingredients
1

pound

ground beef

1

can (8 ounces)

tomato sauce

1

small onion

chopped

1

garlic clove

minced

2

tablespoons

chili powder

1

teaspoon

cumin

1/2

teaspoon

paprika

1/2

teaspoon

ground cayenne pepper

2

cups

flour

4

eggs

2/3

cup

milk

1

bag (18 ounces)

Fritos

Your choice of toppings (I went with shredded Cheddar, sour cream and diced green onions)
Instructions
Brown the ground beef and drain the fat.

Add tomato sauce, onion, garlic, chili powder, cumin, paprika and cayenne pepper and simmer for an hour.

Spoon chili into a silicone ice cube tray and freeze for an hour or until frozen through.

Set up a dredging station with three bowls — flour in the first one, milk and eggs in the second one and crushed Fritos in the third one.

Remove chili cubes from the ice cube tray and coat each chili cube in flour, submerge in egg wash and cover in crushed Fritos. Repeat this step a second time if necessary and freeze for at least an hour.

Heat oil in deep fryer or heavy skillet to 375°F and fry chili cubes for 6 minutes or until cooked through.

Drain on paper towels and serve with your choice of toppings.