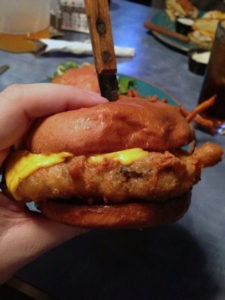 I used to live fairly close to the Painted Parrot, and when I did I stopped in there on a pretty regular basis. They used to have an eating challenge where if you could finish a two pound burger, two ounces of soup and 22 fries in 22 minutes or less you'd win a free quarter barrel of beer. I always meant to try it, but never got around to it.
The bar is under under new ownership now and unfortunately they don't offer that challenge anymore, but they do have a revamped menu that has a pretty amazing new burger on it.
No, the burger patty isn't two pounds, which I imagine would make for a really dry burger anyway, but it is battered and deep fried! It actually tasted exactly like the same type of breading they use on their onion rings, which are pretty delicious in their own right. Add in the sweet potato fries that I chose as my side and I was pretty much in heaven!
Oh yeah, and if you like nachos you need to try Painted Parrot's "Big Ass Nachos." Be sure to bring a few friends with to help you finish them though, because they're ridiculously huge. They actually come served on an upside down garbage can lid. Yeah… a garbage can lid….