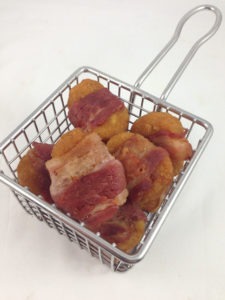 I have a couple friends who are vegetarians and they're always telling me how great the food from MorningStar Farms is and how it tastes just like real meat, so when the company sent me a box of their veggie chicken nuggets I was pretty anxious to give them a try.
After taking one bite however I think that my friends might have forgotten exactly what real meat tastes like. Don't get me wrong, these Chik'n Nuggets were definitely close in taste to actual chicken nuggets, but they were a little bit chewier and you could definitely tell that they aren't made with real chicken.
Overall I just felt like the chicken nuggets were missing something, and that "something" was real meat, which is why I wrapped each one with a slice of bacon and threw them back in the oven! Suddenly I had something I could really sink my teeth into! Alright, that was a little corny, but on a serious note, the bacon transformed these chicken nuggets into something completely delicious!
According to the box, these MorningStar Chik'n Nuggets have way fewer calories than regular chicken nuggets, not to mention 40% less fat, so even though I wrapped them in bacon they're still probably just about as healthy as eating regular, non bacon wrapped chicken nuggets. I mean, I didn't do the math on it or anything, but that's just my guess.
If you're completely against eating meat than these are probably the closest thing you're going to get to it, but Im guessing that if you don't eat meat then you're already more than aware of all the non-meat offerings from MorningStar Farms. As for me, I'm sticking with the real thing from now on!