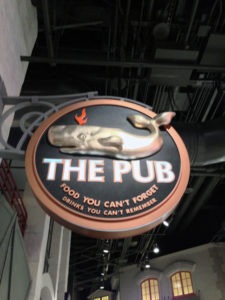 Usually when I write about a restaurant here on DudeFoods I have it planned out ahead of time. Sometimes it's because I stumble across their menu online and a certain dish sounds appealing to me, and other times it's because a friend tells about a place they think I'd like. Every once in a while though I'm eating somewhere and my food comes out looking so good that I decide to write about it right then and there. The Pub at Monte Carlo falls into that second category.
I was in Las Vegas leaving Monte Carlo and heading over to Aria when I came across The Pub. I was a little hungry, but was prepared to keep walking until I noticed a bottle of my favorite beer in the entire world — Chimay — in the window. I ended up stopping in for "just one," which turned into three or four beers plus an order of food.
I started off with an order of their mac & cheese, which comes topped with Gouda, Parmesan and Fontina cheese, plus some breadcrumbs for good measure. It was delicious, and was probably ten times better than the fancy black truffle mac & cheese I had a couple nights later an an uber-expensive steakhouse.
Once I polished that off, which didn't take very long at all by the way, I took advantage of their build your own burger menu and ordered a chicken patty topped with American cheese, avocado, bacon and mayonnaise. The chicken was great as well, but what really stole the show were the sweet potato fries that came along with it. Whereas most restaurants are content with the natural sweetness that the sweet potato offers The Pub takes it one step further by sprinkling their sweet potato fries with cinnamon and sugar. One word… amazing!