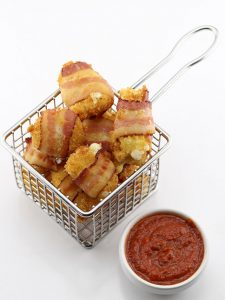 For the past couple months I've been creating recipes and videos for the Wisconsin Milk Marketing Board to help spread the word about their Summer of Curds promotion where they've been giving away cheese curd prize packs — including a pound of deliciously squeaky Wisconsin cheese curds — every single day.
Well, all good things must come to an end…. Don't worry, I'm not talking about my love for cheese curds — I've still got a one pound a week habit going when it comes to those — I'm talking about the fact that you only have two more days to head over to EatCurds.com to enter to win a pound of fresh Wisconsin cheese curds, an EatCurds.com t-shirt, a cheese curd can koozie, magnet and a coupon for even more curds (because the best thing to pair with cheese curds is even more cheese curds).
My first recipe I created for the Summer of Curds was a burger that had a bun made from wheels of cheese curds that were wrapped in bacon and deep fried. Although everyone seemed to love the idea I realize that it might have been a little too over-the-top for some people. If you still want that bacon wrapped cheese curd goodness though this recipe is the perfect alternative!
If you want to try these Deep Fried Bacon Wrapped Cheese Curds for yourself just head on over to WisconsinCheeseTalk.com to learn how to make them. Then, if you're looking for more recipe ideas you can also check out the Deep Fried Doritos Breaded Cheese Curds and Deep Fried Cheese Curd Crust Pizza  that I've created.