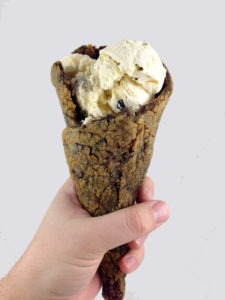 For as simple as a Chocolate Chip Cookie Cone sounds, it actually took me a LONG time to get it just right. On my first try I put a pile of cookie dough in my waffle cone maker, pressed down the lid and expected to be able to roll it into a cone after it cooked. It didn't quite work out that way however and when I opened the lid half of the cookie dough was stuck to the top grilling plate and the other half was stuck to the bottom.
For my second attempt I took a metal cone, wrapped cookie dough around it and stood it up on a baking sheet in my oven. After about five minutes the dough was running down the cone into a pile on the cookie sheet. On the plus side though, when you're trying to make a cookie cone and it doesn't turn out the way you want it you're left with a bunch of cookie dough to eat, which isn't a bad problem to have at all!
For my third and final attempt I decided to just bake one giant cookie in my oven and then roll it into a cone the second it was done baking, before it could harden. Well, I guess sometimes the simplest idea is the best, because this worked like a charm. To roll mine I used the cone-form that came along with my waffle cone maker, but any cone-shaped object should work just as well. Then, once the cookie cone cooled and hardened it was all set to eat!
Now, my Chocolate Chip Cookie Cone was awesome on its own, but do you know what really took it to the next level? The chocolate chip cookie dough ice cream that I filled it with! I'm not normally a huge dessert fan, but this cookie cone was delicious and was ten times better than any other ice cream cone I've ever eaten. In fact, I enjoyed it so much that I think I might need to try making an Elvis Cookie cone next!