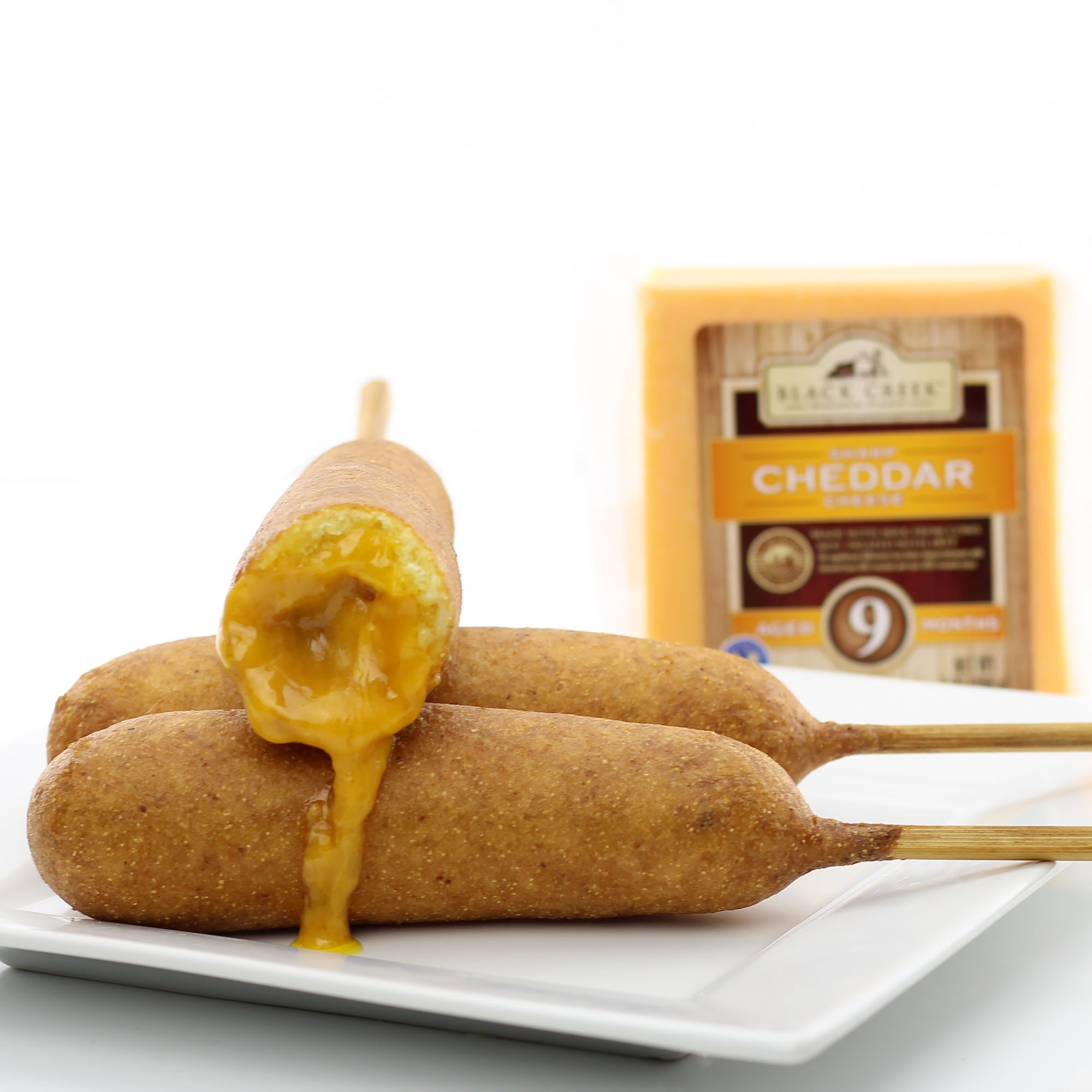 For the past couple months now I've been working with Black Creek Cheese on a series of recipes.
I started off with a Cheddar-stuffed burger that was completely wrapped in a bacon weave — and topped with even more cheese for good measure — and followed that up last month by making Bacon Cheeseburger Bowls.
With the 4th of July coming up this weekend I got to thinking about how I usually celebrate by getting together with friends and family, watching fireworks and eating fair food like cotton candy and corn dogs.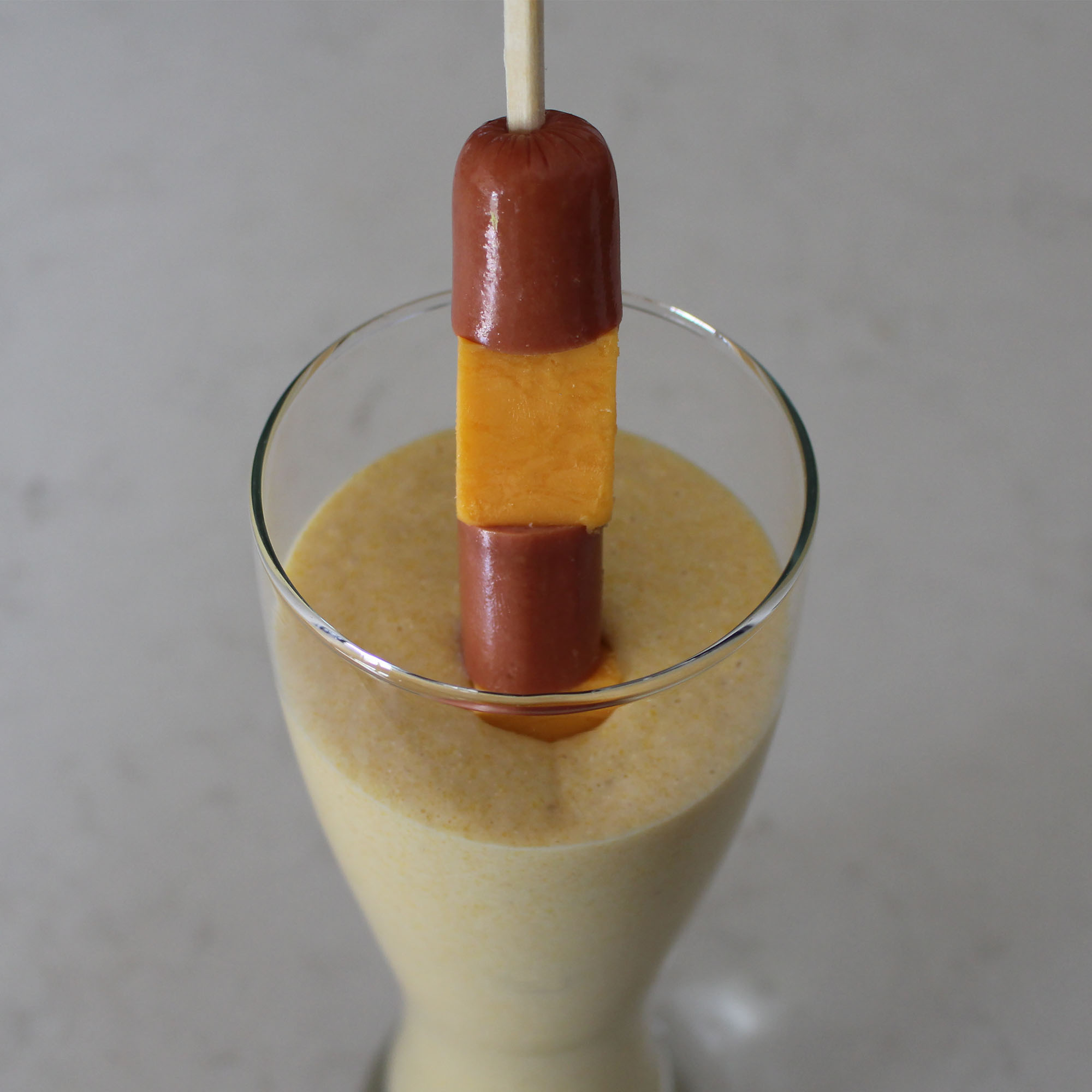 Most of us will be doing things a little differently this year, but that doesn't mean that you can't still whip up some of those classic fair-style foods at home.
I already shared my traditional corn dog recipe a while back, so rather than sticking with that again I decided to put an interesting spin on it by making corn dogs that alternate chopped up hot dogs and pieces of Black Creek's Sharp Cheddar together on one stick.
Adding cheese to anything always makes it better and it definitely isn't any different when it comes to corn dogs. The result of my little experiment is that with each bite you get either hot dog, gooey cheese or a little bit of both.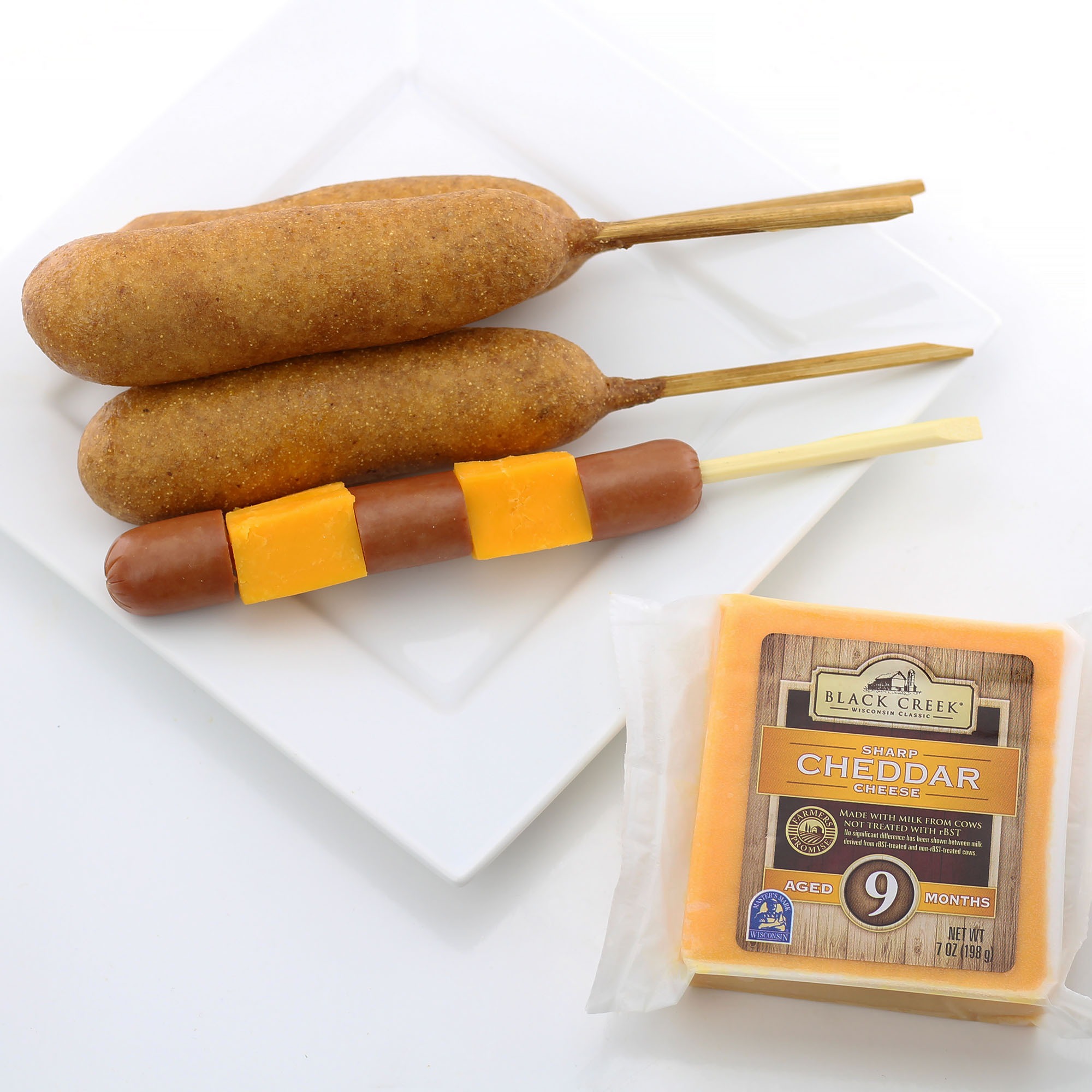 I know that corn dogs aren't traditionally thought of as having a very bold flavor, but that all changes when you add these cubes of Black Creek Cheddar!
Not only did these Cheesy Corn Dogs taste amazing, but do you want to know how to get them to look amazing as well? The trick is to slice your pieces of cheese so they have the exact same width as hot dogs. That way when you dip the corn dogs into the batter it runs off smooth and you get a nice even cook when you fry them. Giving the stick a bit of a twist as you're removing them from the batter helps with this as well.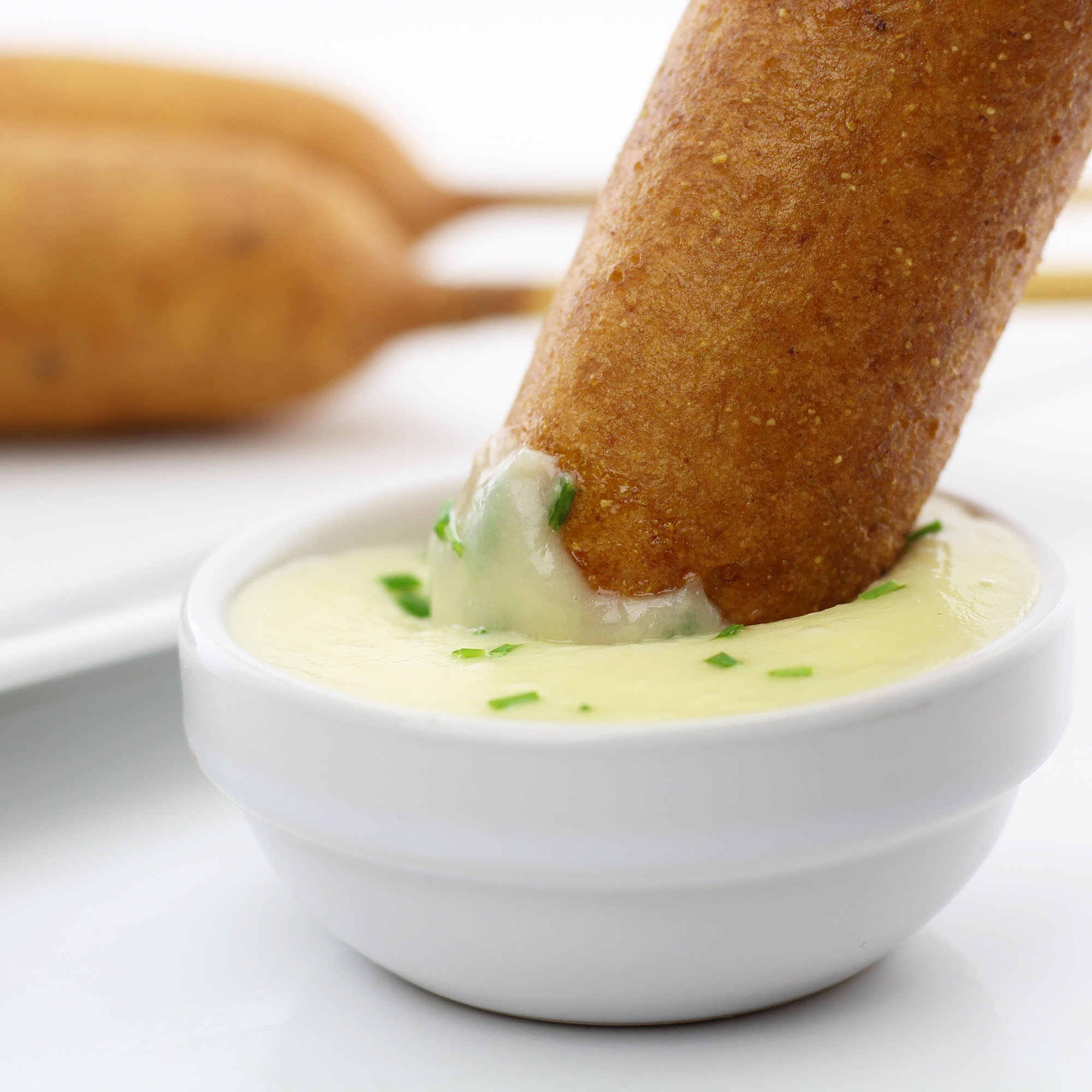 Normally I'm a fan of dipping my corn dogs in ketchup or mustard, but since the best thing to pair with cheese is even more cheese I used some of Black Creek's Sharp White Cheddar to make a super easy cheese sauce to dip them in.
Cheesy Corn Dogs dipped in even more cheese? I think I just invented my new favorite fair food!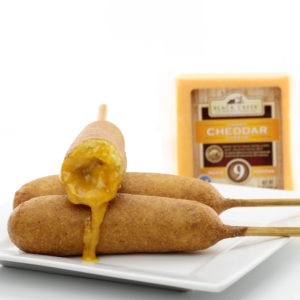 Cheesy Corn Dogs Recipe
Nick @ DudeFoods.com
These Cheesy Corn Dogs alternate slices of hot dogs and cheese so you get a little bit of both in each bite!
Ingredients
Corn Dogs
2

quarts

oil

for frying

6

corn dog sticks

or chopsticks if you can't find corn dog sticks

4

hot dogs

7

ounces

Black Creek Sharp Cheddar

aged 9 months

1

cup

cornmeal

1

cup

flour

1/4

cup

sugar

1/4

teaspoon

salt

1/8

teaspoon

pepper

4

teaspoons

baking powder

1

egg

1

cup

milk
Cheese Sauce
6

ounces

Black Creek Sharp Cheddar

aged 9 months, shredded

1

tablespoon

butter

1

tablespoon

flour

1/2

cup

milk
Instructions
Corn Dogs
Heat oil in deep fryer or heavy skillet to 375°F.

Chop each hot dog into 4 equally sized pieces.

Slice your Cheddar into cubes that are the same size as the hot dog pieces.

In a bowl, combine cornmeal, flour, sugar, salt, pepper and baking powder. Stir in eggs and milk.

Take corn dog sticks and slide five total alternating pieces of hot dog and cheese onto each one.

Transfer corn dog batter to a tall glass and dip the corn dogs one by one into the batter.

Fry corn dogs in batches for 3 minutes or until golden brown.

Drain on paper towels and serve with cheese sauce, ketchup, mustard or your preferred corn dog accompaniment.
Cheese Sauce
In a saucepan, melt butter over medium heat and stir in flour. Add milk and reduce heat to low. Stir in shredded Cheddar cheese slowly until melted.