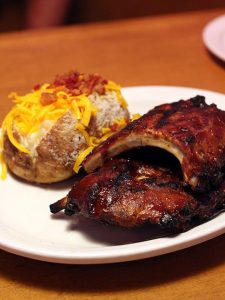 Texas Roadhouse invited me in recently to sample their fall-off-the-bone ribs and I've gotta say, I'm impressed!
Actually, I should correct myself, when I hear the word "sample" it sounds like more of a one bite tasting that you'd get as you're walking the aisles of a grocery store. This was more of a feast — a heavenly meaty feast!
What makes their ribs so great is the process in which they prepare them. Each Texas Roadhouse location uses the exact same 3-day preparation process that includes their own unique blend of seasoning and signature BBQ sauce. The end result is meat that literally falls right off the bone. They refer to their ribs as "fork-tender" but I'll just call them delicious!
Oh, and those freshly baked rolls and cinnamon butter that get delivered to your table as soon as you sit down at Texas Roadhouse? How amazing are those? If I hadn't also eaten a full slab of ribs, baked potato and a pile of steak fries I would have absolutely loved to have eaten a few more of those as well.
Want to try Texas Roadhouse's ribs for yourself? Click here to use their store locator to find the nearest location!
Or, if you'd like to make your own ribs at home make sure you check out the video below for a great recipe straight from masters themselves. Fair warning though, it will probably be pretty difficult to get your ribs to taste as great as the ones from Texas Roadhouse do!
Disclosure: I've received compensation for this sponsored post, but all opinions are my own. Gettin' paid to eat ribs is the best y'all!