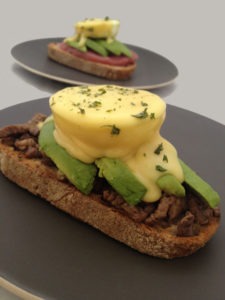 One thing that annoys me about restaurants is that almost everywhere you go you'll find a "California" version of something on the menu that's simply a regular version of the same dish with avocado added to it. You can't just throw a few slices of avocado on top of a burger and call it a "California Burger." To me that's just boring and unoriginal.
I know I'm not the first person to come up with the idea for a California-themed Eggs Benedict, but based on the ones I've seen around I am the first person to do more to it than simply adding some avocado and maybe a slice of tomato. Don't get me wrong, avocado is still a must, but it isn't very difficult to get a little more creative than that.
The first step I made was to swap out the traditional English muffin for a slice of sourdough bread. Two other foods that immediately come to mind when I think of California are sushi and the amazing carne asada street tacos that I had the last time I was in San Diego.
Rather than combine both of those things into one dish though I decided to make two different California Benedicts — one where the sourdough was topped with carne asada steak and one where I substituted some fresh sashimi grade tuna in place of the steak. Both Eggs Benedicts then had sliced avocado, a poached egg and Hollandaise sauce added to them.
I'm not really sure if I can pick a favorite between my two California Benedicts. They both turned out delicious, and even though the only difference was the two different types of meat (assuming you consider fish a meat) each one had a totally unique taste. Then again, why be forced to choose one when you can just eat them both!